'The Driftless Area' Trailer: Have You Started Any Fires Lately?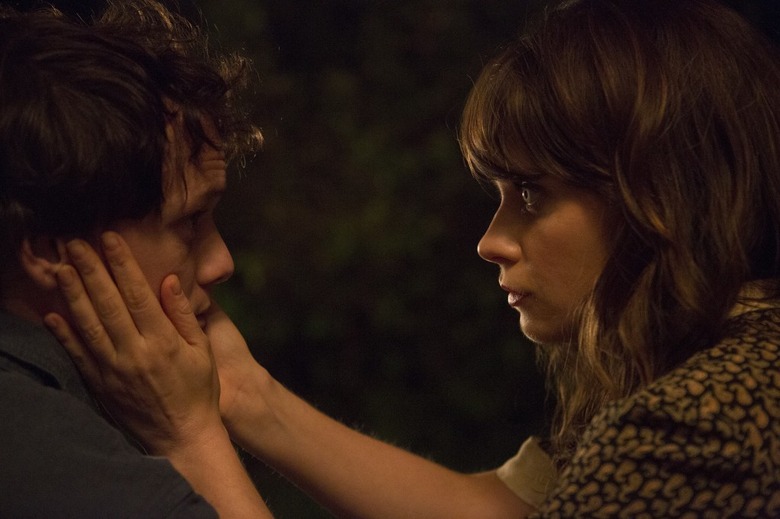 A film with Anton Yelchin, Zooey Deschanel, Aubrey Plaza, John Hawkes, Frank Langella, Alia Shawkat, and Ciarán Hinds shouldn't be flying so far under the radar. The Driftless Area premiered last spring at the Tribecca Film Festival, where it was met with mixed reviews. Based on the trailer for the surreal crime love story, it's easy to see why.
We got our first look at co-writer/director Zachary Sluser's film almost two years ago. The adaptation of Tom Drury's novel certainly looks intriguing. Although it's difficult to get a read on the tone of the film, you must admit, a fantastical, somber crime love story isn't a movie we see everyday, especially one with a cast of this caliber.
Here's The Driftless Area trailer, which premiered on Yahoo! Movies:
The picture is going straigh to DVD and VOD in April. The Driftless Area definitely doesn't seem like a movie for everybody, so perhaps the release doesn't reflect the film's quality. The cast alone makes this worth checking out. The trailer is a bit messy — and, with this concept, the movie easily could be, too – but who doesn't want to watch John Hawkes and Ciarán Hinds share the screen together?
This also won't be the only movie we see with Anton Yelchin and Alia Shawkat this April. The two star in Jeremy Saulnier's Green Room, an excellent siege film that pits punk rockers against Neo-Nazis. That's a fanatically visceral movie, and one not to be missed. A Yelchin and Shawkat double feature doesn't sound too bad, so hopefully The Driftless Area is better than its early reviews suggest. There's certainly potential hinted at in the trailer.
Here's the synopsis:
No one knows if Pierre fell for the wrong girl or was just unlucky in love." Based on the novel of the same title by Tom Drury, Zachary Sluser's neo-noir, metaphysical romance centers on a budding love affair that causes a ripple effect in a quiet town. After his parents' death, an affable bartender, Pierre Hunter (Anton Yelchin), returns to his childhood home where he falls for the enigmatic Stella (Zooey Deschanel), a stunning woman with an elusive past. Pierre finds himself pulled into a cat-and-mouse game with an incompetent yet destructive criminal (John Hawkes). Braced with a duffel bag full of cash and unyielding optimism, an unveiling mystery sets Pierre down a path that will determine all of their fates.
The Driftless Area is available DVD and VOD on April 26th.