Louis C.K. Pulls A Beyoncé, Surprises Fans With Web Series 'Horace And Pete'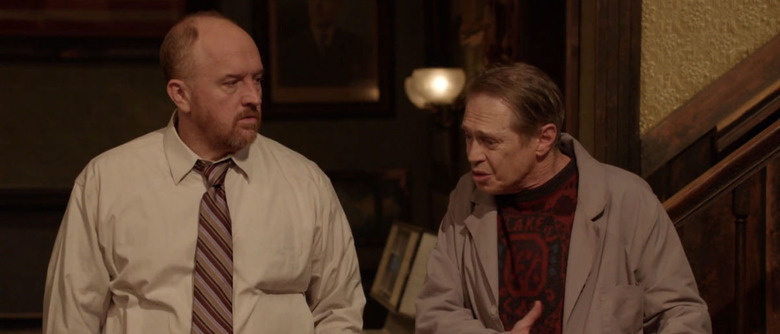 Louie is currently in the middle of another extended hiatus, but Louis C.K. has apparently been busy working on another, top-secret series. Over the weekend, C.K. borrowed a page from the Beyoncé playbook and dropped a new web series, Horace and Pete, with no warning.
C.K. plays Horace and Steve Buscemi is Pete, and the two operate a run-down Brooklyn dive bar together. Also starring in the series are Alan Alda, Jessica Lange, Edie Falco, Aidy Bryant, and more. 
C.K. first alerted his fans to the existence of Horace and Pete on Saturday via email titled "A Brand New Thing From Louis C.K.":
Hi there.
Horace and Pete episode one is available for download. $5.Go here to watch it.
We hope you like it.
Regards,
Louis
Those who went there to watch it found a 67-minute-long drama written and directed by C.K., about the proprietors and patrons of a bar in Brooklyn. Though C.K.'s phrasing in the announcement suggests this will be the first installment of an ongoing web series, it's unclear when the next episode might arrive, or how many there will be total. (Which means it's also unclear how much it'll cost viewers, in the end.) And the overall vibe feels more like a dramatic stage play than a traditional TV sitcom.
While Horace and Pete caught the world by surprise, it had no trouble attracting attention, most of it positive. The New York Times has likened it to "a Cheers spec script by Eugene O'Neill" and "a dark take on Norman Lear's sitcoms of the early '70s (if with far more profanity)"; The New Yorker has called it "C.K.'s most audacious independent creation yet." On the flip side, Time lamented that "the usually dependable comedian misses the mark" here, and The Playlist has admitted that they aren't exactly "chomping at the bit" for another episode.
But enough about what everyone else thought of Horace and Pete. If you're a C.K. fan with $5 and 67 minutes to spare, episode one is right there for the taking, so you can make up your own mind about it. If you've seen it, what did you think? Are you eager for episode two, or do you wish he'd just go back to making more Louie?