Noomi Rapace Won't Return For 'Alien: Covenant'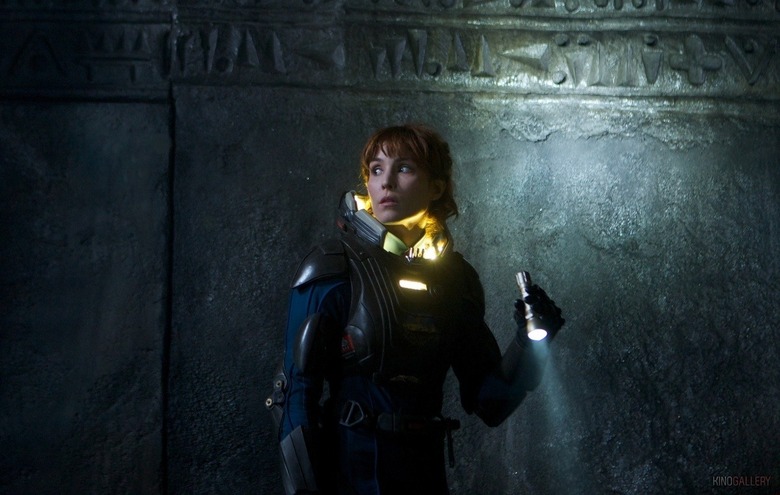 Title notwithstanding, Alien: Covenant is a Prometheus sequel, and as such we've been expecting it to pick up where that earlier adventure left off. But it seems at least one major development will have taken place by the time we revisit that universe.
Director Ridley Scott confirms Noomi Rapace will not return as archaeologist Elizabeth Shaw, leaving Michael Fassbender's murderous android David the only character from the last film set to return. He'll be joined by some new characters, though, including one played by Katherine Waterston. 
The Daily Mail's Baz Bamigboye got the scoop straight from Scott himself. When Bamigboye asked whether Rapace would return for Alien: Covenant, the director said no and added, "We're still casting the main roles." Waterston and Fassbender are the only actors locked in for Alien: Covenant at this time.
Prometheus ended with Shaw and David striking out for the Engineers' home world in search of answers. As previously reported, Alien: Covenant picks up about ten years after the events of Prometheus, and follows a colony ship, the Covenant, that lands on a planet whose sole inhabitant is Fassbender's character David. We've been wondering how Shaw would fit in, even as Scott has teased that Rapace would have a "minor" role in the movie, and it doesn't come as a huge surprise to hear she's now been cut from the film completely.
While Rapace sits this one out, Fassbender should be extra busy, as he'll have dual roles in the movie. Waterston's character hasn't been revealed, but it's likely she'll play one of the Covenant crew members, and be this installment's Ripley or Shaw — i.e., the badass heroine battling aliens. Though it sounds like she may actually have it worse than her predecessors did. Scott has revealed that Alien: Covenant would be a "hard R," with something "much worse" than the classic chestburster scene.
Alien: Covenant arrives October 6, 2017.
Ridley Scott returns to the universe he created in ALIEN with ALIEN: COVENANT, the second chapter in a prequel trilogy that began with PROMETHEUS — and connects directly to Scott's 1979 seminal work of science fiction. Bound for a remote planet on the far side of the galaxy, the crew of the colony ship Covenant discovers what they think is an uncharted paradise, but is actually a dark, dangerous world — whose sole inhabitant is the "synthetic" David (Michael Fassbender), survivor of the doomed Prometheus expedition.