'Fantastic Beasts And Where To Find Them' Featurette & New Wizarding Schools Revealed By J.K. Rowling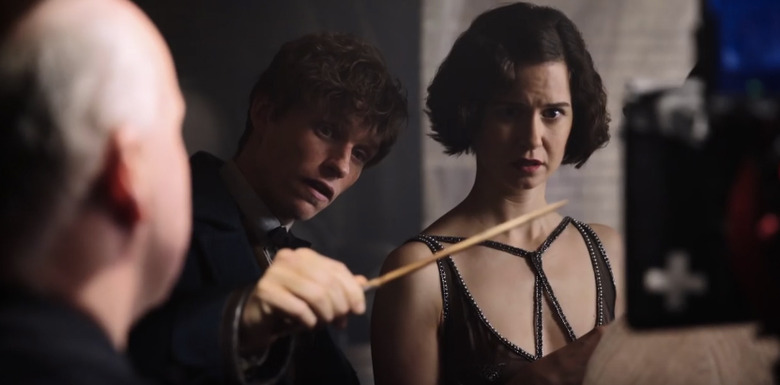 Last year, a teaser trailer for Fantastic Beasts and Where to Find Them introduced us to the American magical world that we'll see on the big screen this fall. Now a new featurette on the film shows off even more of the Harry Potter spin-off, including our new adult main characters played by Eddie Redmayne, Katherine Waterston, Dan Fogler and Alison Sudol. However, we don't find out much more about Colin Farrell here. Still, it's a cool glimpse behind the scenes of the wizarding adventure that takes place in New York City in 1926. Watch the Fantastic Beasts and Where to Find Them featurette below!
Here's the featurette for Fantastic Beasts and Where to Find Them from Pottermore:
The video was unveiled at Universal Orlando's A Celebration of Harry Potter, and it wasn't the only cool tidbit to come out of the event. Inside the Magic reports Fantastic Beasts prop designer Pierre Bohanna revealed that Newt Scamander's wand is made of wood, shell, and bone. So do with that information what you will, Potterheads.
And since Fantastic Beasts and Where to Find Them is showing more of the wizarding world around the globe, there's no better time for J.K Rowling to reveal some new details on some of the other wizarding schools. In addition to Hogwarts, Beaxbatons and Durmstrang, which we've learned about from the Harry Potter books and movies, Rowling revealed several more schools of witchcraft and wizardry that make up 11 total institutions that are registered with the International Confederation of Wizards. Here's a map with all the schools: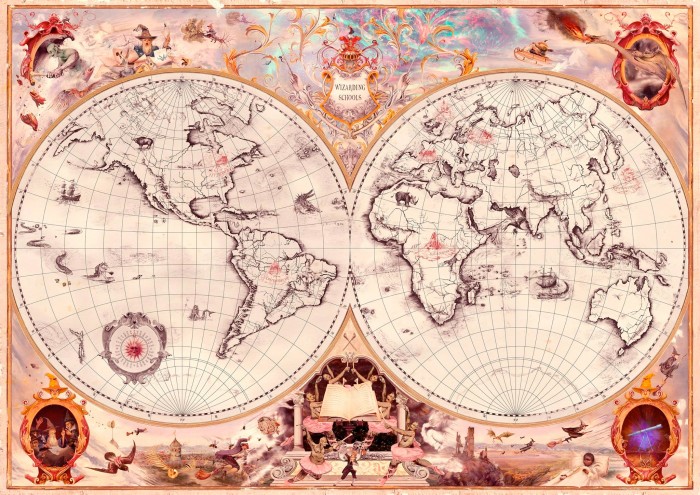 Newly revealed schools include Ilvermorny, the American school located on the East Coast, though not in New York. There's also Mahoutokoro, which is stationed in Japan, on the topmost point of the volcanic island of Minami Iwo Jima. In Africa, there's Uagadou in an unspecified location referred to as "Mountains of the Moon," carved into the side of the rock formation. And finally, there's Castelobruxo, a golden temple set within the lush Brazilian rainforest.
Will we ever get to see these schools on the big screen? That remains to be seen, but it's cool knowing that Rowling has an even more expansive wizarding world planned out in her head. Some day there needs to be some kind of Harry Potter encyclopedia that Rowling writes with all the pertinent information. That seems to be what Pottermore is mostly, but these details are only being revealed gradually by the author. One has to wonder if she'll ever be done telling us more about the world she created. Only time will tell.
If you want plenty more details on the new wizarding schools, you can read about them at Pottermore. Otherwise, Fantastic Beasts and Where to Find Them hits theaters on November 18, 2016.