Futuristic 'Robin Hood' Movie Coming From '300' Producers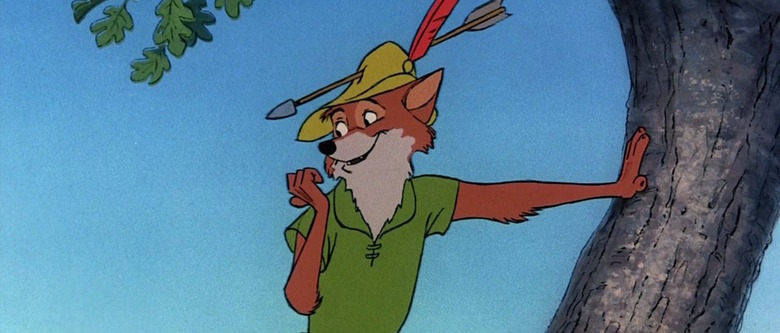 Robin Hood may be the biggest star in Hollywood right now. The classic folk hero has no fewer than four movies in active development at different studios, and now the producers behind 300 are firing up one more. What sets this one apart from all the others is that it'll be a "futuristic reimagining" of the character, set in a dystopian London. THR reports Gianni Nunnari's The Hollywood Gang is moving forward with its Robin Hood story, setting Tony Lee to script. The project, which had been going under the working title Robin Hood 2058, follows "a rogue MI5 agent on a mission to avenge injustice" in a dystopian London. It's quite a change from Robin Hood's more usual stomping ground of Sherwood Forest, but that little detail notwithstanding, Lee says his movie will "stay faithful to the legend's source material."
The film has been in development for several years already and as of 2011 was set up at Warner Bros. Jason Dean Hall (American Sniper) and Michael Ross (The Throwaways) have both worked on the screenplay in years past. Nicolai Fuglsig was attached to direct at one point but the movie does not have a director on board at this time. It also no longer has a studio; Warner Bros. is currently moving forward with a different take on the legend.
Lee is probably better known as a comic book writer, having worked on titles like Doctor Who, MacGyver, Battlestar Galactica: Starbuck, Superboy, and The Amazing Spider-Man, but he has several screenplays set up around town including the action-thriller Cartel and the comedy The Mild Bunch. Nunnari's credits include the 300 films and Tarsem Singh's Immortals.
Robin Hood is having a moment. Maybe it's because a hero who steals from the rich and gives to the poor has particular resonance at a time when income inequality is a growing concern in America. But more likely it's because he's a public domain character and when one studio gets an idea to do something, every other studio seems to follow suit. Remember the time we got two Snow White movies in the same year? Or the time we got two "Die Hard in the White House" films?
Besides Nunnari and Lee's dystopian take, the legend of Robin Hood is also coming to the big screen as a Dark Knight-esque saga in Lionsgate's Robin Hood: Origins; as a Pirates of the Caribbean-like adventure in Disney's Nottingham & Hood; as a Marvel-style universe in Sony's Fast and the Furious-ish actioner; and as a mysterious reimagining in Warner Bros.' as-yet-untitled movie. Origins currently seems to be the furthest ahead, as it already has Taron Egerton set to star.