Another 'Zootopia' Trailer And New 'Zootopia' Clips Lay It On Thick With The Animal Puns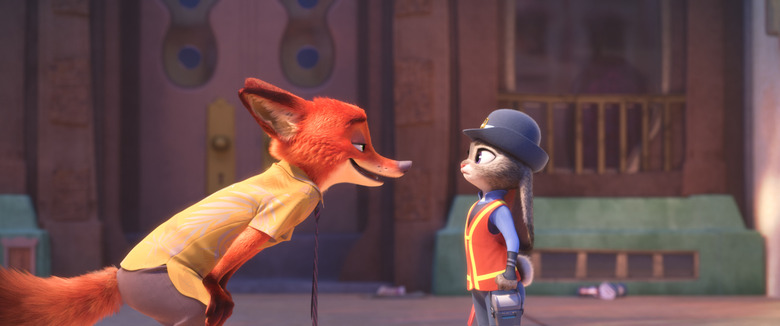 Talking animals are nothing new in the world of Disney animated features, but Zootopia takes them to a whole new level by presenting an entire city built, populated, and run by mammals. There are hamster businessmen, shrew mobsters, and a lion mayor. Our protagonists are a fox con artist (voiced by Jason Bateman) and a rabbit police officer (voiced by Ginnifer Goodwin). And they all have one thing in common: they really, really love making animal puns.
A new Zootopia clip addresses the very literal "elephant in the room," while another offers a peek at "Zoogle," the animal version of Google. There's also one more Zootopia trailer that offers a better look at Nick's (Bateman) scamming ways. Check it all out after the jump. 
Disney has been killing it with their animated features lately, and Zootopia looks like another winner. Though really, these promos have yet to deliver a joke as brilliant as the DMV being run by sloths. That spot played ahead of my opening night screening of Star Wars: The Force Awakens, and even with a crowd impatient to get past the trailers and start the movie already, that gag totally killed.
Zootopia arrives March 4.
The modern mammal metropolis of Zootopia is a city like no other. Comprised of habitat neighborhoods like ritzy Sahara Square and frigid Tundratown, it's a melting pot where animals from every environment live together—a place where no matter what you are, from the biggest elephant to the smallest shrew, you can be anything. But when rookie Officer Judy Hopps (voice of Ginnifer Goodwin) arrives, she discovers that being the first bunny on a police force of big, tough animals isn't so easy. Determined to prove herself, she jumps at the opportunity to crack a case, even if it means partnering with a fast-talking, scam-artist fox, Nick Wilde (voice of Jason Bateman), to solve the mystery. Walt Disney Animation Studios' "Zootopia," a comedy-adventure directed by Byron Howard and Rich Moore and co-directed by Jared Bush, opens in theaters on March 4, 2016.