'Fifty Shades Darker' Adds Kim Basinger As Christian Grey's Mrs. Robinson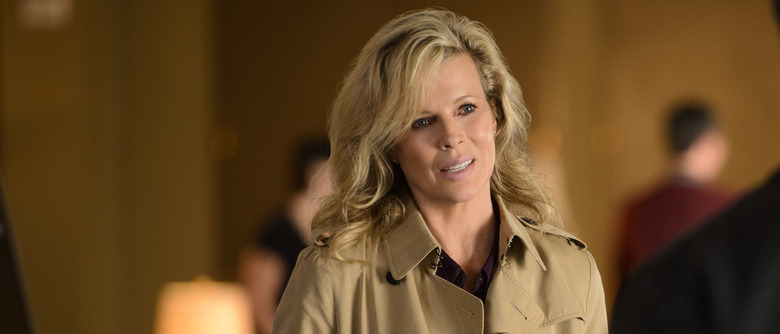 Fifty Shades Darker inherited its two leads from the last installment of the nascent BDSM franchise, Fifty Shades of Grey, but it's got some new characters to introduce as well. The first addition to the sequel cast is Kim Basinger as Elena Lincoln, sort of the Mrs. Robinson to Christian Grey's Ben Braddock. But kinkier, of course, because Fifty Shades. 
Variety reports, and Fifty Shades author E.L. James confirms, that Basinger is playing Elena. As Christian's former lover and current business partner, Elena is none too thrilled about his burgeoning romance with Ana and tries to push them apart. Basinger joins Dakota Johnson and Jamie Dornan as Anastasia Steele and Christian Grey, plus Luke Grimes as Elliott Grey, Eloise Mumford as Kate, and Max Martini as Taylor.
The plan is for Fifty Shades Darker and its sequel, Fifty Shades Freed, to shoot back-to-back under director James Foley from scripts by Niall Leonard (who just so happens to be James's husband). James will produce with Marcus Viscidi, Michael De Luca, and Dana Brunetti.
The first Fifty Shades of Grey, which grossed $571 million at the box office last year, was directed by Sam Taylor-Johnson and had a script by Kelly Marcel. The film was, I'd argue, quite a bit better than its shoddily written source material, and did a great job of showcasing Johnson's charm. But James and Taylor-Johnson famously butted heads on set, and so it didn't come as a surprise when we learned she wouldn't be back for the sequel. The behind-the-cameras shakeups suggest James will have much more creative control over future installments, for better or for worse.
Basinger, an Oscar winner for her supporting turn in L.A. Confidential, will be seen later this year with her L.A. Confidential co-star Russell Crowe in Shane Black's The Nice Guys. The two Fifty Shades movies should begin production sometime this year, as Universal already has release dates locked in on February 10, 2017 and February 9, 2018.