Bryan Fuller's 'American Gods' Finds Its Shadow In 'The 100' Star Ricky Whittle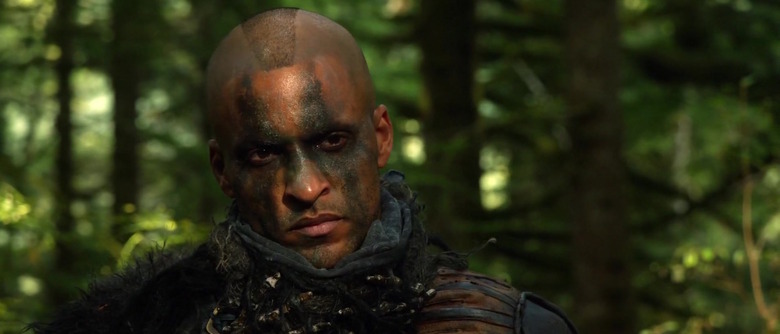 A TV adaptation of Neil Gaiman's American Gods has been in the works for years now — first at HBO, now at Starz — and the latest iteration of the project has just made a huge leap forward. Ricky Whittle, probably best known as Lincoln on The CW's The 100, will play the lead character, Shadow Moon. More about the American Gods Shadow casting after the jump. 
Whittle confirmed the casting on Twitter.
I am truly humbled & honored to be Shadow Moon in @AmericanGodsSTZ. Thank u @neilhimself @BryanFuller @andmichaelgreen @FMNATV #AmericanGods

— Ricky Whittle (@MrRickyWhittle) January 28, 2016
Gaiman added his thoughts in a press release:
I'm thrilled that Ricky has been cast as Shadow. His auditions were remarkable. The process of taking a world out of the pages of a book, and putting it onto the screen has begun. American Gods is, at its heart, a book about immigrants, and it seems perfectly appropriate that Shadow will, like so much else, be Coming to America. I'm delighted Ricky will get to embody Shadow. Now the fun starts.
And here's the official American Gods synopsis from Starz:
American Gods been translated into over 30 languages and earned numerous accolades including Hugo, Nebula and Bram Stoker Awards for Best Novel. The plot posits a war brewing between old and new gods: the traditional gods of mythological roots from around the world steadily losing believers to an upstart pantheon of gods reflecting society's modern love of money, technology, media, celebrity and drugs. Its protagonist, Shadow Moon, is an ex-con who becomes bodyguard and traveling partner to Mr. Wednesday, a conman but in reality one of the older gods, on a cross-country mission to gather his forces in preparation to battle the new deities.
In Gaiman's book, Shadow is described as having a "coffee and cream" complexion. Fans feared that his ambiguous ethnicity meant Shadow would be cast as white in the TV adaptation, but Gaiman and exec producer Bryan Fuller have been very clear throughout the casting process that they were looking for an actor of color to play the role. "I think if we cast a white man to play Shadow we would be the biggest a**holes on television," said Fuller in 2014.
American Gods features a big, sprawling cast of characters, so we're going to be waiting a while to see how the whole thing shapes up. But Whittle as Shadow seems like an encouraging first step. Whittle is a British actor who first broke out on the soap opera Hollyoaks, and then gained a devoted American following on The CW's The 100. His other credits include the shows Mistresses and Single Ladies, and the movie Austenland.
The TV project was originally set up at HBO in 2011. After that version of American Gods fell apart, it moved over to HBO with Fuller (Hannibal) and Michael Green (Heroes) set to serve as showrunners. Since then it's been progressing slowly but surely. Last year, the team offered a little update in the form of some very intriguing concept art.
ON YOUR KNEES (with your prayers) #CastingShadow @AmericanGodsSTZ @FMNATV @andmichaelgreen @neilhimself pic.twitter.com/4BYGt2Bh1w

— Bryan Fuller (@BryanFuller) June 16, 2015
So that's a YES, then. Here you go.
I love this painting. It's of Shadow's dream of the #boneorchard #AmericanGods pic.twitter.com/VyB2ywA1z8

— Neil Gaiman (@neilhimself) June 16, 2015
With Whittle locked in as Shadow, we should start hearing about some of the other big leads in the not-too-distant future. So consider this your one of your last opportunities to indulge in some fantasy-casting. Who do you want for Mr. Wednesday, Mr. Nancy, and all the rest?