Clive Owen Joins Andrew Niccol's Next Project 'Anon'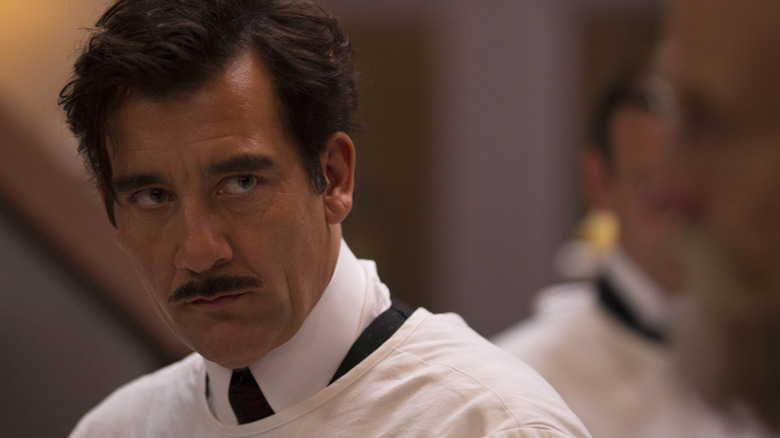 Calling Anon writer-director Andrew Niccol's next project might be a bit presumptuous. Like a lot of directors, he's had casts assemble for past projects that never came to fruition. Remember that high-concept film he had going with Orlando Bloom, Vincent Cassel, and Olga Kurylenko in the works? All directors have projects stall, of course, but it's especially noticeable in the case of Niccol; it took six years for him to follow up Lord of War.
It sounds like Anon might be next for the Gattaca director, though. Clive Owen (The Knick) will star in the film, while his female co-star will be announced in the coming weeks.
I've interviewed Niccol a few times over his career, and every time I've spoken with him he's stressed how difficult it is for him to tell some of the stories he's passionate about:
My life is always going to be difficult, because of the type of movies I make. If you're not going into a studio with a comic, a sequel, or a remake, already life is going to be difficult for you. So to do what I often do is to have expensive, unconventional ideas, it makes life harder, because you can go into a studio with a conventional idea that's expensive, but don't go in with an unconventional idea that's expensive!
The problem is — Niccol's ideas are generally pricey. His original script for The Truman Show would've cost a fortune to make. Even that project he had going with Bloom was budgeted around $25 million, and Niccol still couldn't get that made. Obviously that's a lot of money, but compared to what studios spend on their tentpoles, not so much.
His next project, Anon, is another original, high-concept story from Niccol, which sounds a tad similiar to In Time. According to The Hollywood Reporter, Clive Owen will play "a detective in a world with no privacy, ignorance and anonymity. When Owen's character stumbles on a young woman who doesn't exist, he discovers that such transparency might not be the end of crime but the beginning." Owen is currently shooting another sci-fi project at this time with Luc Besson's Valerian – a movie I am very, very much looking forward to.
Anon is being produced by Niccol and K5 is funding the project. While many have been disappointed with Niccol's output post-Gattaca, his last feature, Good Kill, is a modest return to form. In Time and The Host are hard movies to go to bat for, but both Good Kill and Lord of War show the director hasn't lost his touch.