'Batman V Superman': Zack Snyder Asked For Christopher Nolan's Blessing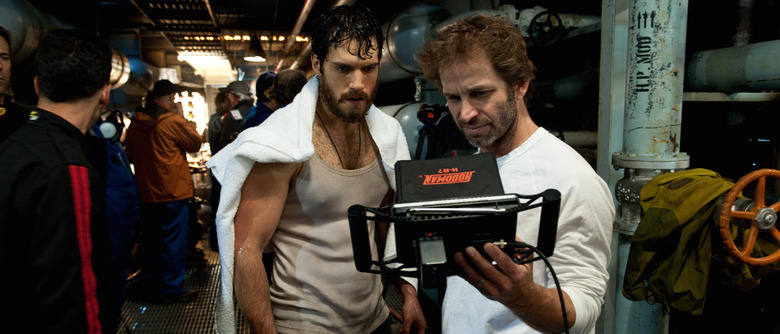 Zack Snyder is basically the God of the DC Comic movies right now. With Batman v Superman: Dawn of Justice, he's not only setting up the two titular characters for future films, but also Wonder Woman, Aquaman, and maybe more. What he did with these heroes in the upcoming superhero pic will, most likely, heavily influence what Warner Bros. does going forward.
What does former Batman director Christopher Nolan think about the new direction Snyder is taking Bruce Wayne in, though? Does he miss the character at all?
Nolan's The Dark Knight trilogy seems to have little influence in Batman v Superman: Dawn of Justice, at least based on the recent trailer for the film. Speaking with Empire, Snyder recounted his exchange with Nolan, who was an executive-producer on Man of Steel:
"You tell me if you don't want me to do it," Snyder told Nolan. After a silence, Nolan said, "Well, we don't own these characters. When you're done making Batman movies, someone else will [make them]. I think he found it a little bit hard. I would feel the same way.
Artistically and financially, Nolan is doing just fine without Batman in his life, and his Dark Knight Trilogy won't be soon forgotten. After spending years in Gotham, though, it must be odd seeing the character get a facelift without him involved.
In the past, Snyder has said his Batman will be quite different compared to Nolan's:
Only in that because it's a different Batman than the Batman that was in the Chris Nolan movies, so we have a little bit more explaining to do—and you just had a whole Superman movie. But I think only in that way, because you need to understand where Batman is with everything. And that's more toward the beginning, but it evens back out as it goes on.
Zack Snyder's Batman will be "the jury and the executioner," according to producer Charles Roven. Is that gritty enough for you? We'll see if this new Batman is actually that intense, but it's interesting to see Snyder go in that direction after deconstructing the idea of heroes operating above the law in Watchmen.
Here's the official synopsis for Batman v Superman: Dawn of Justice:
Fearing the actions of a god-like Super Hero left unchecked, Gotham City's own formidable, forceful vigilante takes on Metropolis' most revered, modern-day savior, while the world wrestles with what sort of hero it really needs. And with Batman and Superman at war with one another, a new threat quickly arises, putting mankind in greater danger than it's ever known before.
Batman v Superman: Dawn of Justice opens in theaters March 25th, 2016. Zack Snyder directed from a script by Chris Terrio and David Goyer. Ben Affleck stars as Batman, Henry Cavill returns as Superman, and Gal Gadot makes her debut as Wonder Woman. Expect plenty of cameos, including Jason Momoa as Aquaman.
Also starring are Jesse Eisenberg as Lex Luthor, Amy Adams as Lois Lane, Holly Hunter as Senator Finch, Diane Lane as Martha Kent, Laurence Fishburne as Perry White, and Jeremy Irons as Alfred Pennyworth. Jena Malone and Scoot McNairy also appear in unspecified roles.
So, all in all, a pretty small ensemble picture.