'Indignation': Logan Lerman Delivers The Best Performance Of His Career [Sundance Review]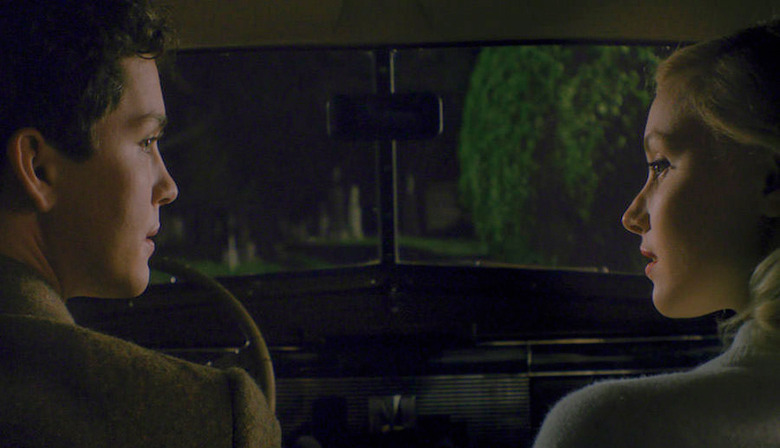 After finding fame as the titular hero in the Percy Jackson fantasy franchise, Logan Lerman has started to carve an impressive acting career over the past few years with praiseworthy performances in films such as The Perks of Being a Wallflower and Fury. But his latest leading turn in Indignation, an adaptation of Philip Roth's novel of the same name, shows the outstanding talent that Lerman has when given the right role. Indignation has the best performance of Logan Lerman's career, and it helps that the film surrounding this stellar work is brilliant as well. Keep reading for my full Indignation review.
The film follows Lerman as Marcus Messner, son of a Jewish kosher butcher from Newark, New Jersey who has decided to attend college at a university in Ohio in order to avoid enlisting in the Korean War in the 1950s. What he wasn't aware of was this was a Christian college that requires attending mass 10 times a year before you can graduate, and that doesn't sit well with Marcus since he's a self-proclaimed atheist.
But the school turns out to offer a little more than religious disagreement as Marcus takes notice of fellow student Olivia Hutton (Sarah Gadon), a gorgeous, alluring blonde whose bare leg swinging over the side of a library chair distracts him from studying. The two go on a date, but Marcus gets more than a little perplexed and flustered when Olivia turns out to be more forthcoming than he anticipated on their ride back from their first date. Let's just say it's the first time Marcus has experienced such nighttime activities with a girl, let alone in his roommate's Cadillac.
What follows is Marcus' struggle to come to terms with Hutton's complicated past, one that includes alcoholism, a suicide attempt and a reputation as a "slut" according to other students around campus. This only exacerbates Messner's frustration at school, creating clashes with his roommates, as well as a roughly 20-minute meeting with the school's Dean Caudwell (Tracy Letts in an awards-worthy supporting turn). Even Aaron Sorkin would stop and clap for this entertaining, smart and simply outstanding scene that features Lerman and Letts firing back and forth at breakneck speeds, partaking in  a war of words that is one of the sharpest written scenes I've seen on screen.
Beyond the writing, Indignation also features a truly magnificent score by Jay Wadley, full of strings and fitting with the film's classic aesthetic and storytelling. But what makes the film even more beautiful is the bookends around it. The opening is so brief and everything in between so engaging that you may forget about it by the time the end comes around. But the final shot is a revelation in more ways than one, putting a cap on a fine film from director James Schamus.
Though the film does fall victim to the manic pixie dream girl trope, it's done so well with such care for both Lerman and Gadon's characters that it's not really a flaw. Lerman and Gadon both bring such charisma and conviction to their characters that you root for them to work through their differences, even if the romance seems doomed from the beginning. Roth's writing has clearly influenced plenty of more contemporary indie romances, but due to such a crisp, flawless script, Indignation never feels derivative or stale.
Indignation is a masterful piece of work from James Schamus, a film that would have been worthy of being release under his Focus Features banner had it been released years before. Every piece of production is remarkable, from the supporting cast, to the production design and more. Schamus has crafted an extraordinary adaptation of Philip Roth's book, a timeless tale of lost love and innocence that deserves to be seen./Film Rating: 9 out of 10