Star Wars Bits: New 'Episode 8' Location, Great New 'Star Wars' Posters, Harrison Ford To Introduce Disney's Star Wars Land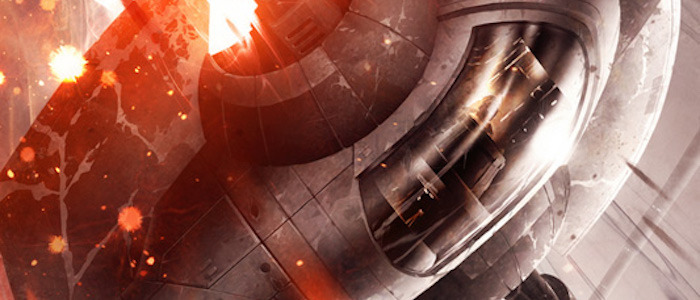 You may have noticed that Rogue One news stories are becoming common enough that we've had to spin them off into their own separate series. Does that mean Star Wars Bits is any less crammed full of cool stuff? Nah. In today's edition:
Star Wars: Episode 8 heads to a familiar location.
Two potential Han Solo actors speak out.
Harrison Ford will introduce Star Wars Land on television.
A clip from the next episode of Star Wars Rebels.
An official update on the latest Star Wars trading cards.
Star Wars: Battlefront gets new updates.
A smorgasbord of great Star Wars art that you can buy right now.
According to the good folks at Making Star Wars, Rian Johnson's Star Wars: Episode 8 will film in Dubrovnik, Croatia. This area should already be well-known to some pop culture fans – this is where they film the King's Landing scenes on HBO's Game of Thrones. Details of the shoot are not known, but Making Star Wars cites a pleasant atmosphere and killer tax breaks, so it sounds like everyone wins. Especially you, since you can know impress everyone in your life with the latest connection between Westeros and the Star Wars universe.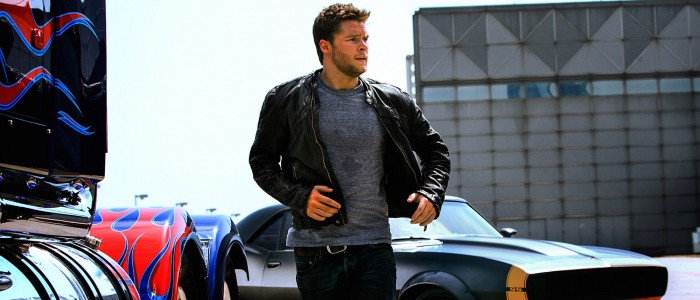 How do you play Han Solo without, you know, being Harrison Ford? According to Transformers: Age of Extinction star Jack Reynor, who is reportedly in contention to star in Chris Miller and Phil Lord's upcoming young Han Solo spin-off, you try to do your own thing. While he wouldn't confirm that he's up for the part, he did tell MTV:
We're talking about Harrison Ford. He's no chump. You can't do an imitation. You can't try and just emulate what that is. It's got to be something new. It's also got to be something that the audience is going to respond to.
Meanwhile, Logan Lerman (who is also supposedly on Lucasfilm's shorlist) said "I don't think I'd be intimidated. It would just be fun." Is that kind of brashness admirable or insane? You decide.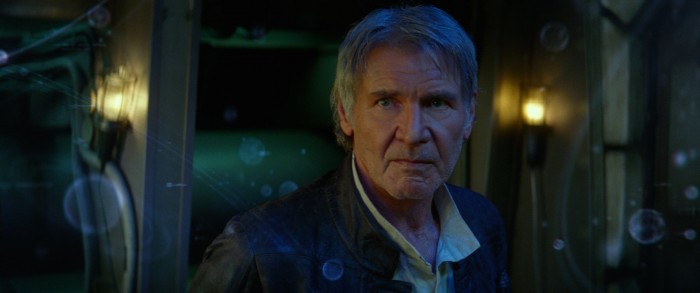 But here's the real question for anyone looking to play Han Solo – who is willing to grin and bear it for the Disney corporation? EW has revealed that Harrison Ford will host an ABC television special that will offer an official first look at Disneyland and Disney World's upcoming Star Wars Land expansions. We know that these ambitious areas will feature shops and restaurants and envelope-pushing rides (including one that puts you in the cockpit of the Millennium Falcon), but beyond a few boilerplate quotes and few pieces of concept art, the whole endeavor remains cloaked in mystery. But now, we'll get to learn a little more thanks to Han Solo himself. Place your bets now on which Ford shows up: the positive, spirited guy who promoted Star Wars: The Force Awakens or the grumpy, grumbly Ford who has promoted everything else in the past decade.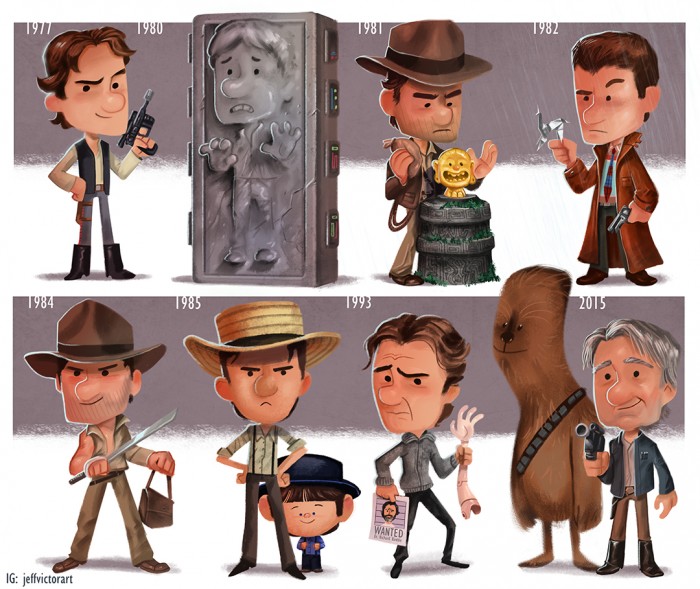 While we're on the subject of Harrison Ford, artist Jeff Victor has revealed this very cool tribute to the beloved actor, which depicts his most iconic characters across 40 years and eight films. The Star Wars entries are cool and all, but you've got to love that he included a gem like Witness.
Speaking of Star Wars on television, Disney has released another new clip from the next episode of Star Wars Rebels, titled "The Protector of Concord Dawn." The scene finds Hera behind the controls of an A-Wing fighter, trying to elude death at the hands of some not-very-nice guys who seem to want her dead.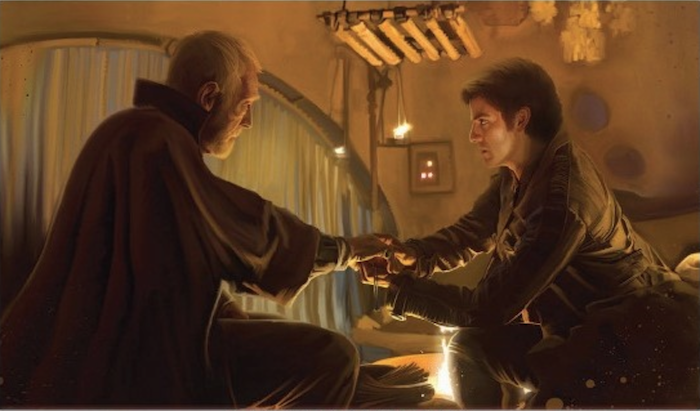 The official Star Wars site has revealed three new sets of Topps trading cards, just in case you're looking for something new to collect. First up is the first series of Star Wars: The Force Awakens cards, which are described as follows:
Featuring characters and storylines from Star Wars: The Force 
Awakens
Exciting inserts to chase including Stickers, Concept Art, Weapons, Movie 
Scenes, Character Montages, Locations, The First Order Rises, and Behind The 
Scenes
Over 50 Medallion cards to chase in gold, silver, bronze, and platinum
First Order Stormtrooper Costume pieces to collect
Autographs from the cast including John Boyega, Harrison Ford, Carrie
Fisher, Anthony Daniels, Kenny Baker, Peter Mayhew, Tim Rose, Mike Quinn, and 
Warwick Davis
Available in hobby shops and retailers nationwide
Next up is the Topps Star Wars Galactic Connexions Series 2:
Featuring 75 characters from across the Star Wars saga
A wide variety of disc colors and rare foils to chase
New ultra-rare purple lightsaber disc to chase
New solid 14kt gold disc to chase featuring Princess Leia in her Boushh 
disguise
Available exclusively at Walmart and Walmart.com
And finally, there's the Topps Star Wars High Tek Collector Cards:
A new high-end collector set based on High Tek, one of Topps' most iconic brands
Featuring gorgeous high-end plastic technology
Over 55 on-card autograph signers including Mark Hamill, Harrison Ford, 
Carrie Fisher, John Boyega, David Prowse, first-time signers George Takei, Deep
Roy, Keisha Castle-Hughes, Brian Blessed, and many more
Numerous patterns and parallels to chase
Available exclusively in hobby shops
You can check out a gallery of these cards by following this link.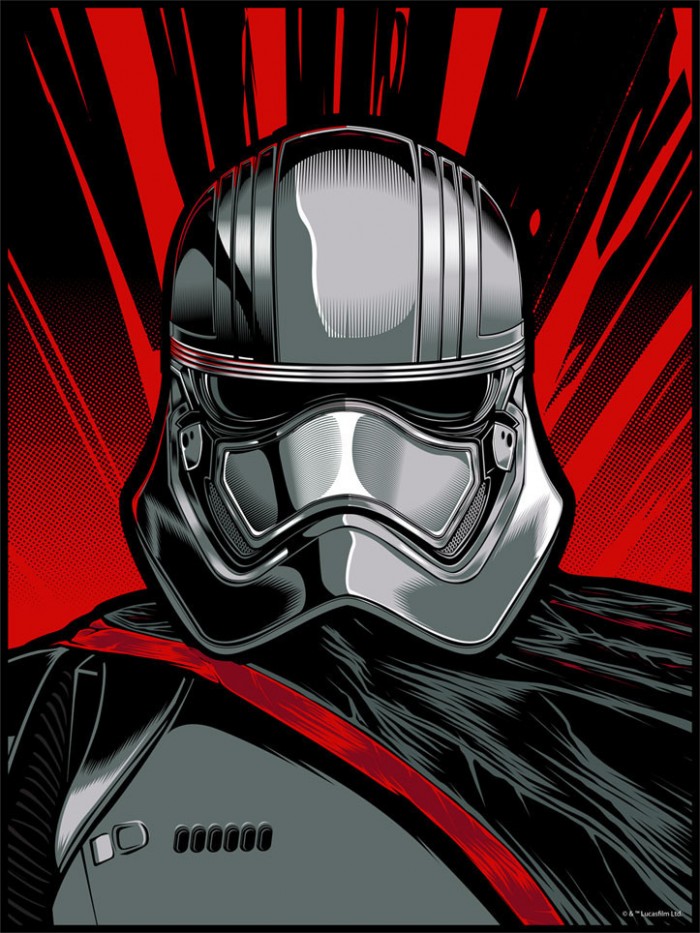 Dark Ink has revealed two new Star Wars posters that you can buy right now for $50 each. The first (as seen above) is "Captain Phasma" by Hydro74 and the other (seen below) is "Dune Sea Droid Traders" by Brian Miller. Both look like they'd make a fine addition to your wall, don't you think?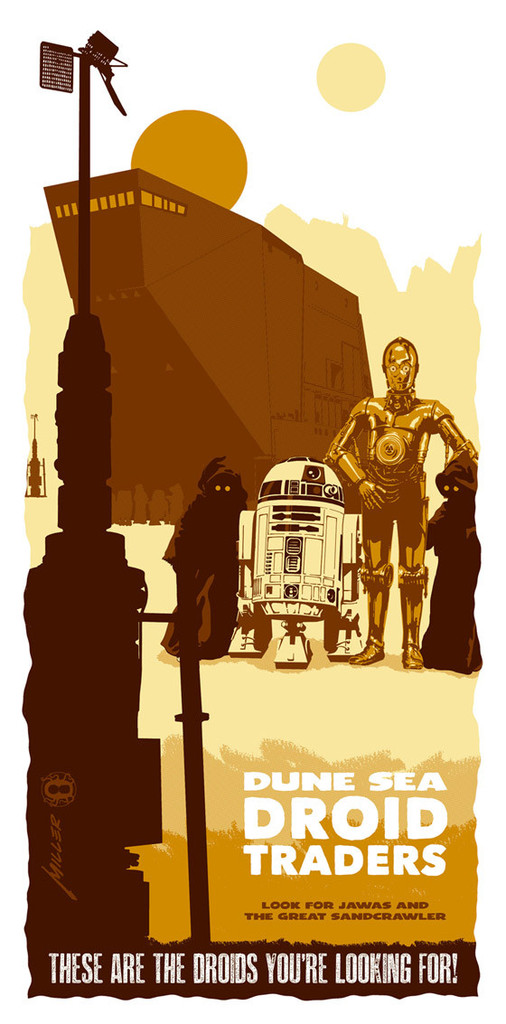 Variety reports that Disney is currently shopping around the television rights to the Star Wars series and they're not being shy about cost. Whoever wants the right to play Star Wars: The Force Awakens and the upcoming Star Wars: Episode 8 and Star Wars: Episode 9 will have to pony up a reported $30 million apiece for each film. The other six films will also command high costs, but not that high (and other films from the Disney library will be included in the package). As Variety points out, the only potential conflict is the eventual arrival of the Star Wars films on Netflix, which will happen as part of a previous deal. In any case, don't expect to see The Force Awakens on "free" TV until 2018.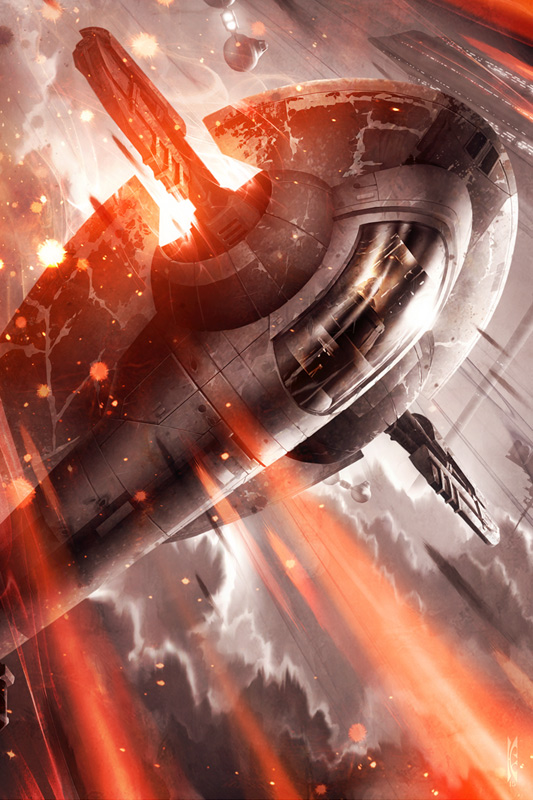 If you're in the market for more Star Wars art and you have a little more, well, disposable income, Acme Archives Direct has got you covered. Two new gorgeous pieces are now available for purchase on their site, but they're going to cost you $400 and $395 each. That's a little pricey, but "Haunting the Clouds" by Raymond Swanland (above) and "Fly and Defend" by Mike Kungl (below) are both jaw-dropping.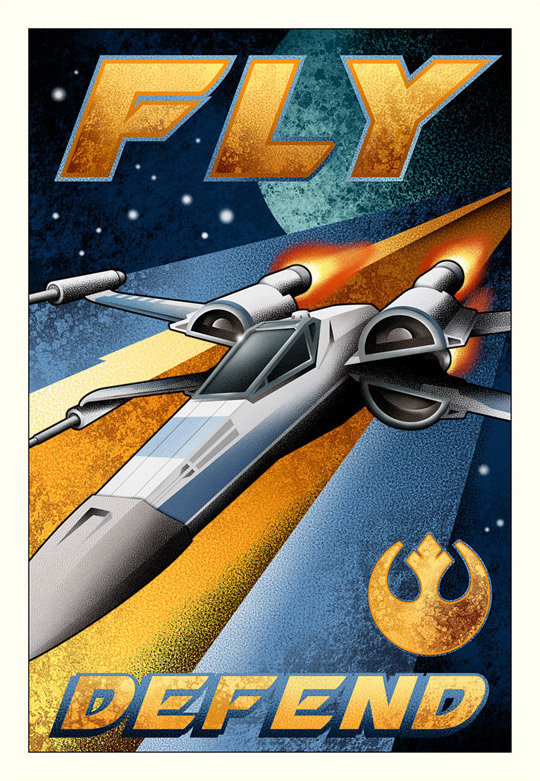 EA has announced a slew of new information about new content coming to Star Wars: Battlefront, their popular multiplayer shooter set in the Star Wars universe. First, they announced release dates and details for the first four expansion packs, which will introduce new maps on which players can shoot each other in the face with blasters:
Star Wars

™ Battlefront™ Outer Rim (March 2016) – Fight among the factories of Sullust and battle within Jabba the Hutt's palace on Tatooine
Star Wars

™ Battlefront™ Bespin (Summer 2016) – It's hunt or be hunted in this action-packed experience set in the Cloud City of Bespin
Star Wars

™ Battlefront™ Death Star (Fall 2016) – That's no moon! One of the most iconic locations in the 

Star Wars

 universe makes its debut in 

Star Wars

 Battlefront.
Star Wars

™ Battlefront™ Expansion Pack 4 – Title TBA (Early 2017) – We will have more details to share about this exciting new expansion pack in the coming months.
Naturally, those expansions will require players to plunk down a little cash. However, some free updates are on their way as well, offering new game modes and costumes and options that will add extra life to the game:
The Tatooine Survival map will now support the Blast, Droid Run, Drop Zone, Hero Hunt, and Heroes vs Villains multiplayer modes, and is called Raider Camp.
New Hoth-themed outfits for Luke Skywalker and Han Solo, both of which will be available to all fans when they play as these two iconic characters on the Hoth – these were unlocked by our players for completing our Heroes' Holiday community mission last month.
We are giving players the ability to create Private Matches, which makes playing with friends even easier.
The introduction of Daily Challenges and Community Events. These are designed to rally the Community around certain goals and objectives, giving players the chance to earn credits and unlocks even faster. We'll have more news regarding Community Events and Daily Challenges in the days ahead.
And of course, we are also including some overall balancing tweaks to both weapons and multiplayer modes.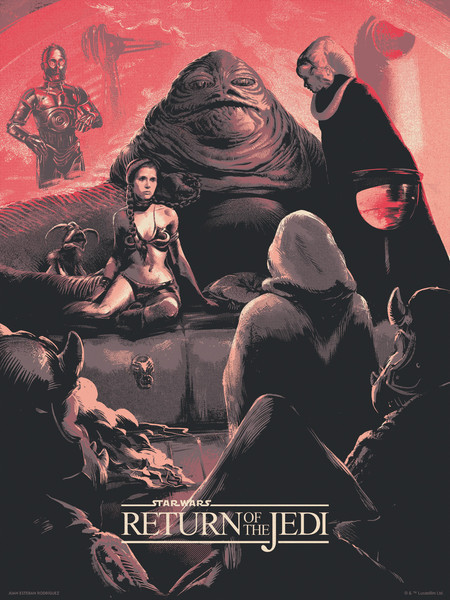 The Bottleneck Gallery has revealed the final print in Juan Esteban Rodriguez's Star Wars trilogy series, this one focusing on Return of the Jedi and Jabba the Hutt's palace. This is part of a 300 print run and will cost buyers $40, so you'll want to act fast if you want to nab this one. It will go on sale this Friday, January 29, at 12:00 P.M. EST. In case you haven't seen them, check out Rodriguez's other two posters in the series below.