'House Of Cards' Season 4 Teaser: Kevin Spacey Digs A Little Deeper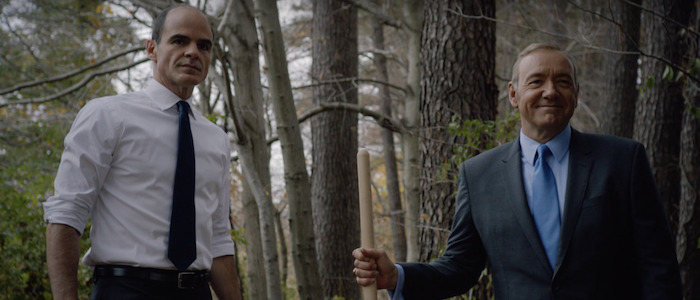 There are a handful of shows that could arrive without any fanfare and still lead to television fans of all kinds struggling to binge every episode before anyone else. Netflix's House of Cards is one of those shows and the streaming giant knows it. That's why the new season arrives in a little over a month and we've only seen a few tiny teasers advertising the show – why spend the time, money, and energy to create a massive marketing campaign when countless people are just going to fire up their Netflix account, see that the new season has dropped, and dive in without being asked oh-so-kindly by a dozen trailers?
The latest House of Cards season 4 trailer is very much in line with the previous teasers that have been unleashed online. All they need is a smug Kevin Spacey and a release date.
If you're hoping for even a hint of plot in this new footage, consider your hopes dashed. This teaser is just Spacey's Frank Underwood and Michael Kelly's Doug Stamper digging a hole in the middle of the woods, looking very suspicious, like they're getting ready bury a body or two. But then the reveal comes and it's not anything too nasty – it's just another moment where House of Cards takes something inherently ugly and masks it as something civil and public and Presidential.
Although House of Cards is still looking pretty unstoppable, this is going to be a major season for Netflix's flagship series. It has to be. After all, you'll find few fans who thought season three of the series was up to par with seasons one and two and you'll find more than a few who thought it was downright bad. For a series that was built to be binged online, the worst possible complaint is that there was not enough story or momentum to fill out the entire season, which was the most common criticism leveled against season three. House of Cards can recover, but one more bummer of a season could shatter its momentum. Heck, when it came time to write up this trailer, one /Film writer said he couldn't take on the task because he had forgotten every single thing that happened last season. Ouch. Season four is going to need more than a few pushing-Kate-Mara-in-front-of-a-train scenes.
The fourth season of House of Cards will drop on Netflix on March 4, 2016. If you want more, you can check out the first teaser (
) and
(which finds Frank being a smarmy bastard right in your face).