Watch Alejandro González Iñárritu Explain A Scene From 'The Revenant'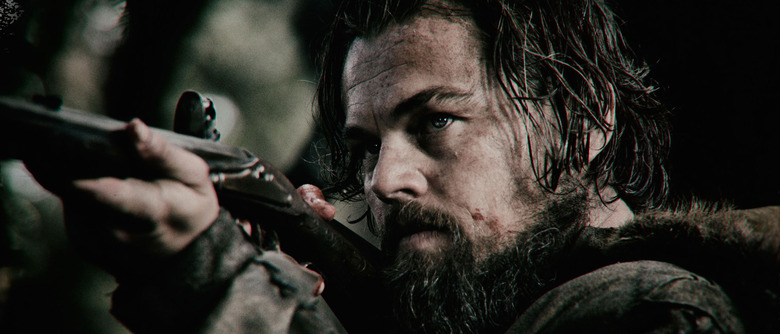 The Revenant may have had a tough shoot – have you heard about that yet? – but all the tough work is paying off. Not only did the epic revenge tale score 12 Oscar nominations, it's also playing well with critics and audiences. Alejandro González Iñárritu's picture is a success and, more than that, a technical marvel. We already shared about 45 minutes worth of behind-the-scenes footage from the film, but you can now also watch Iñárritu deconstruct an intense scene from The Revenant below.
Despite all its success, Iñárritu's picture has its critics. Some claim The Revenant doesn't add up to more than a gorgeously made revenge movie. After a second viewing, I'd say it does, but I definitely had that issue with the film on first viewing – and it certainly would've been less of a problem if it wasn't for one key line from Fitzgerald (Tom Hardy), verbalizing a major theme of the film.
There is more to The Revenant than its involving long-takes and stunning landscapes, though. They're not all there for show, and Iñárritu explains why that is with this The Revenant scene, courtesy of The New York Times:
The Revenant truly is a highly subjective picture. Iñárritu really does bring you along with Glass (Leonardo DiCaprio) on his journey, making every painful movement and icy breath tangible. When the film cuts from that long-take to the shot of Glass trying to escape in the river, it's an effective edit, creating a greater sense of panic and tension.
Inspired by true events, 'The Revenant' is an immersive and visceral cinematic experience capturing one man's epic adventure of survival and the extraordinary power of the human spirit. In an expedition of the uncharted American wilderness, legendary explorer Hugh Glass (Leonardo DiCaprio) is brutally attacked by a bear and left for dead by members of his own hunting team. In a quest to survive, Glass endures unimaginable grief as well as the betrayal of his confidant John Fitzgerald (Tom Hardy). Guided by sheer will and the love of his family, Glass must navigate a vicious winter in a relentless pursuit to live and find redemption.
'The Revenant' is directed and co-written by renowned filmmaker, Academy Award winner Alejandro G. Iñárritu (Birdman, Babel). Also starring Domhnall Gleeson and Will Poulter, the film is based on the novel by Michael Punke. Mark Smith and Iñárritu wrote the script for the movie, produced by Arnon Milchan, Steve Golin, David Kanter, Keith Redmon, and Iñárritu.
The Revenant is playing in theaters everywhere right now.