'Finding Dory' Teaser Finds Dory Trying To Find Dory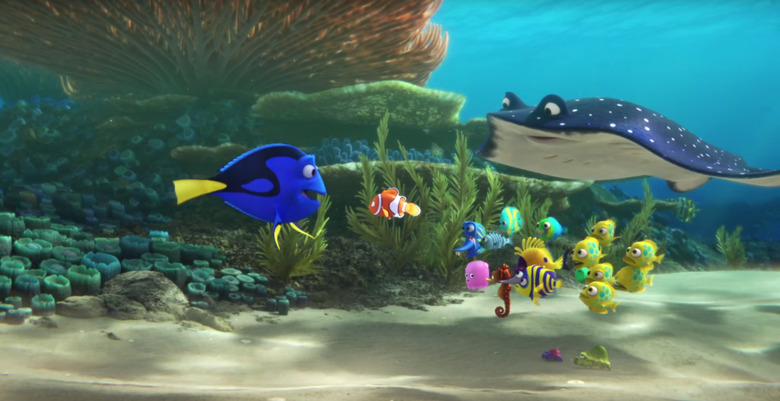 A lot's changed for most of us in the past 13 years, but Dory, it seems, is right where we left her. That's partly because only a few months have changed in her world — but it's also because she's still the blue tang so forgetful that in the latest Finding Dory teaser, has trouble remembering she's the Dory of the title. Instead, she suggests an alternate interpretation of the title. Watch the new Finding Dory teaser after the jump.
The teaser is short and sweet — not much more than a glorified title treatment, really — but after over a decade, it's just nice to see Dory's friendly face and hear her bubbly chatter again. If you'd like to see a bit more of her actual adventure, here's the first full-length Finding Dory trailer released last fall.
Finding Dory sends Dory on an epic quest to find herself. A traumatic incident triggers Dory's homing instinct, and she sets out to return to her family, traveling all the way from the Great Barrier Reef to the Monterey Marine Life Institute in California. Meanwhile, Marlin and Nemo are also finding Dory in the sense that they're chasing after her.
The lengthy journey offers ample opportunity for Dory, Marlin, and Nemo to meet new folks, including Hank, a "cantankerous octopus" voiced by Ed O'Neill; Bailey, a "misguided beluga whale" voiced by Ty Burrell; and Destiny, a "kind-hearted whale shark" played by Kaitlin Olsen. Ellen DeGeneres and Albert Brooks return as Marlin and Dory, of course, and Diane Keaton and Eugene Levy voice Dory's parents Jenny and Charlie.
Disney•Pixar's "Finding Dory" reunites everyone's favorite forgetful blue tang, Dory, with her friends Nemo and Marlin on a search for answers about her past. What can she remember? Who are her parents? And where did she learn to speak Whale?
Finding Dory arrives June 17, 2016.