'Disorder' Trailer: Another Movie With Matthias Schoenaerts We Want To See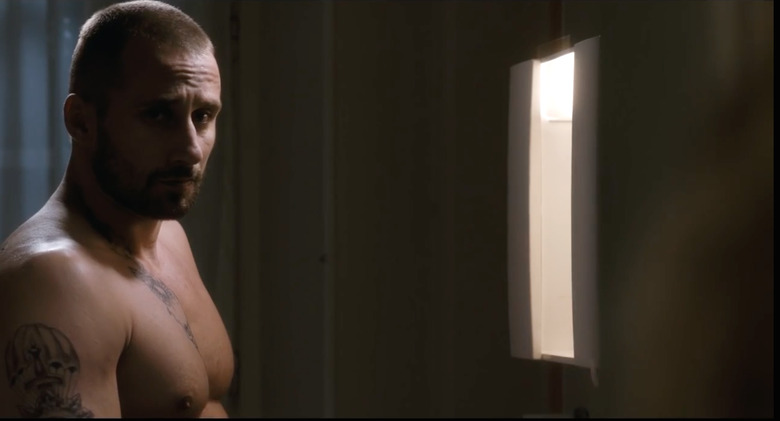 Disorder premiered last year at the Cannes Film Festival and Alice Winocour's (co-writer of Mustang) drama currently has a 100% on Rottentomatoes. Considering the positive reviews and the actors involved, Diane Kruger and Matthias Schoenaerts, hopefully we'll see the film, which has yet to be picked up for distribution, sometime this year in the states.
After the jump, watch the Disorder trailer.
In Disorder, Matthias Schoenaerts plays Vincent, a soldier suffering from PTSD. He takes on a job protecting a businessman and his family, including his wife, played by Kruger. This sounds like a familiar set up, but the trailer promises a more ambitious picture.
Here's the Disorder trailer:
The near-silent trailer teases an unsettling mood from Winocour and an intense performance from Schoenaerts. Few actors these days are as adept at expressing intensity as Schoenaerts. In The Drop, a scene where he simply takes a few small steps towards Tom Hardy's character plays like a scene out of a horror movie.
The actor is not only an imposing presence, though – he possesses tremendous range. I'm not a fan of The Danish Girl, but he brought a lot of warmth to an otherwise cold and distancing picture. After Rust and Bone, The Drop, and an incredible performance in Bullhead, I'll pretty much watch anything with Schoenaerts in it.
What's funny about this trailer is that, despite almost no dialogue and a reliance on atmosphere and images, it still feels like it shows a lot of the movie. It's effective, no question, but it's another trailer in which some seemingly major story beats are revealed. My fingers are crossed that this not the case, and even if it is, no matter. Based on the trailer and the leads, Disorder has some commercial appeal, so the odds of a distributor picking up the project for a wider release are more than likely.
Here's the official synopsis:
Following a tour of duty, Special Services soldier Vincent (Schoenaerts) takes a job in security for a wealthy Lebanese businessman and his family. During a lavish party one night, at their luxurious 'Maryland' villa, Vincent senses that something is amiss. When his employer is then urgently called away on business Vincent is left to ensure the safety of his wife Jessie (Kruger) and their child. Suffering from post-traumatic stress, Vincent battles his own paranoia whilst clinging to the certainty that Jessie and her family are in immediate danger, unleashing a hell-bent determination to protect them at all costs.
Disorder opens in the U.K. on March 25th. There's no domestic date or distributor at the moment.