Hit The Road, Jack: '24: Legacy' Casts Corey Hawkins In Lead Role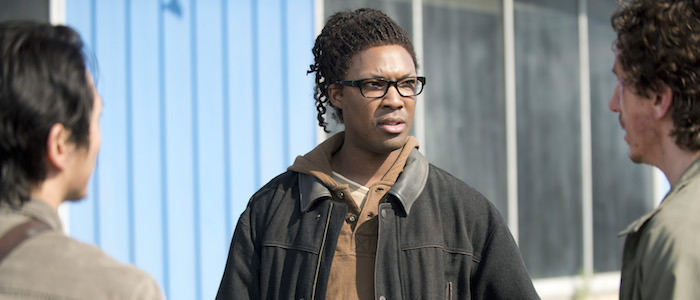 Television shows never die anymore – they just take breaks. 2014's 24: Live Another Day limited series may have officially closed out the story of Kiefer Sutherland's indefatigable and unforgivable government agent Jack Bauer, but it certainly didn't mean the end of 24. Like clockwork, a new series, titled 24: Legacy, was just announced a few weeks ago and today, we've learned that Straight Outta Compton and The Walking Dead star Corey Hawkins has been cast in the lead role.
The news of Hawkins' casting arrives via The Wrap, who report that Hawkins will play the "strong and smart" Eric Carter, a former Army Ranger whose past comes back to haunt him just as a terrorist plot is launched against the United States. Naturally, CTU (the disaster-prone government agency that has been at the heart of 24 since season one) aligns itself with him. Real-time action will ensues!
Hawkins is a Juilliard-trained actor who is still relatively new on the scene. After a series of minor roles (look for him as "Navy Op" in Iron Man 3), he launched himself into the public eye with his scene-stealing turn as Dr. Dre in Straight Outta Compton and played Heath on several episodes of AMC's The Walking Dead. He is currently filming Kong: Skull Island, which will see him star alongside actors like Tom Hiddleston, Brie Larson, and Samuel L. Jackson. So yeah, it's safe to say that he's been having a pretty good year.
The fact that Hawkins' Carter will soon be joined by a female co-lead suggests that we're in for a very different and more diverse 24. Fox Television Group Chairman and CEO Dana Walden says this was all part of a plan to ensure that the new cast is as different from Jack Bauer as possible:
"The character was originally conceived as being a diverse actor. We wanted it to be as different from Jack Bauer as possible and that was the original thinking behind having this be a diverse lead. Whether that's African-American or Latino actor, we've been really excited by some of the people we've been seeing throughout our internal process."
And while there was nothing wrong with Jack or with Kiefer Sutherland (who played the increasingly unstable agent across nine seasons), some new blood certainly sounds like a good idea. The last time we saw Bauer, he was being hauled off to a Russian gulag, a dark but fitting end for character whose sins had finally caught up with him. It's time for 24, which has always been about forcing its characters to make morally impossible choices, to start turning the screws on a new cast. It's time to corrupt some fresh meat.
The 24: Legacy pilot will be directed by Stephen Hopkins, who helmed the pilot for the first season of the original series. The message is clear: this is still 24, but the mere presence of Hawkins in the lead role means that we'll be going off the beaten path.