'The Raid' Director Gareth Evans Shot A Short Samurai Film And You Can Watch It Right Now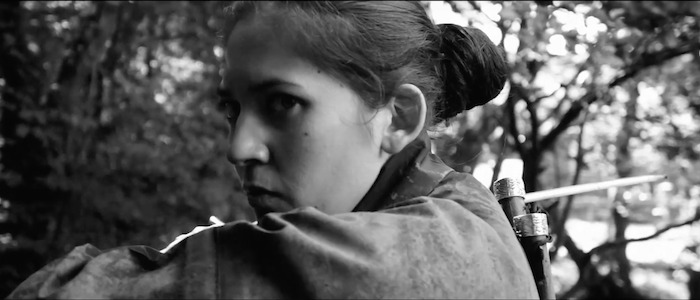 Gareth Evans is one of the most gifted action directors working today. I cannot imagine what it would be like to shrug off The Raid or The Raid 2, but I feel sorry for anyone who can muster that reaction. Here is a filmmaker whose bravery behind the camera is matched only by the fearlessness of the actors, martial artists and stuntmen he places in front of it.
Anyway, Evans got bored and decided to make a short film. Okay, that's a serious simplification of Gareth's latest piece of action mayhem, but the Welsh director did just throw together an action packed short about three dueling warriors with a legit skeleton crew that's more impressive than most big budget action movies.
The short doesn't have much of a plot (and even that's being generous), but this is less of a narrative and more of an excuse for Evans to stretch his directorial muscles and shake out the cobwebs after a few years of not being on a set. The short stars Yayah Ruhian (The Raid and The Raid 2), Cecep Arif Rahman (The Raid 2), and Hannah Al Rashid (who Evans co-directed in his incredible V/H/S 2 segment "Safe Haven"), so it is very much a reunion.
He has disabled embedding on the short, but you can watch it on YouTube right here.
But before you do, here is the basic plot synopsis, which explains why the three deadly individuals in the short are actually swinging swords at each other's faces in the first place:
In a time of civil war, a young warrior is given the task of delivering a treaty between two rival lords. During her journey through the woods however, she finds herself hunted by two assassins intent on intercepting her message of peace in a bid to maintain the fear, instability and violent rule of their leader.
Granted, the short doesn't have the polish of Evans' theatrical work, but consider the circumstances. This was a no-budget, shot-in-the-woods project that was planned in under a week and shot in three days. And it's still this impressive! As Evans explains in this Tweet, there were three goals involved in crafting this little movie: test out some choreography ideas, create something that captured his style that his kid could also watch, and shoot something because he needed to shoot something.
If this is what Evans can cook up in week and shoot with just him and three actors on the set, it suddenly makes sense why the climax of The Raid 2 (which has the benefit of a budget and a crew) is one of the greatest gifts ever granted to action cinema. Evans is the rare director who knows how to showcase the talents of his fighters and shoot them in a way that is never confusing. Anyone who has endured most action movies knows how rare that is.
If you want to know more, Evans also contributed this more in-depth description of what went into the making of the short, which only makes it more impressive:
The following is a test action sequence designed by Yayan Ruhian, Cecep Arif Rahman and Gareth Evans. It was designed in a bid to create choreography that maintains the style and rhythm set out in their prior work (The Raid 1&2) while staying within the parameters of a PG-13/12A audience friendly certification.
Designed in under a week, it was shot over the course of 3 days on location in Hirwaun, WALES. The short sequence was shot using a Sony NEX-7 with only the Director and Cast on location. No other crew and cast worked on this project during the shoot.
Post production was handled in-house with Gareth Evans handling the offline edit while Fajar Yuskemal and Aria Prayogi continued their collaboration by providing an instrumental score tailor made to the project that would call upon cultural elements (the mix of Japanese and Indonesian instruments) inherent in the design of the film.
They have also undertaken the recording of ADR with the cast, foley and editing all sound FX before completing a final stereo mix.
A tip of the hat to Birth Movies Death for bringing this to our attention.