'Sing Street' Review: A Rockin', Endearing, Coming-Of-Age Love Letter To The '80s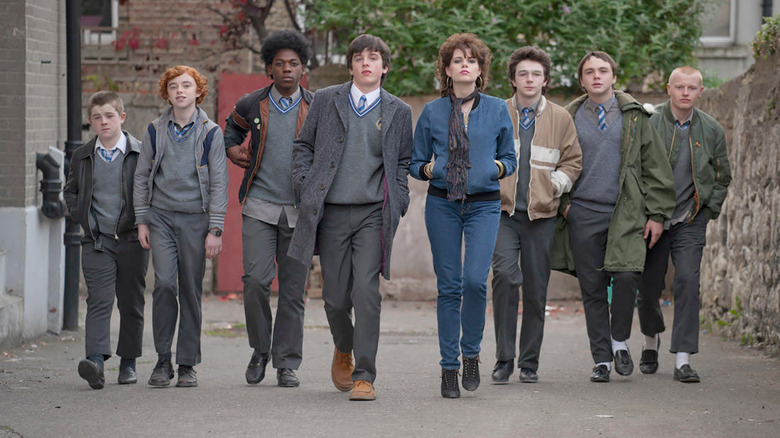 Note: We originally ran this review during the Sundance Film Festival. We're republishing it today as the movie hits theaters this weekend.
When you come to the Sundance Film Festival, you can't wait to fall in love with a movie. As a sucker for coming-of-age movies, I'm always looking for one that really makes me run the gamut of emotions, and if it also has a hellacious soundtrack, fantastic breakout performances, and a glamorous reference to Back to the Future, then that's even better. That's why Sing Street, from Once and Begin Again director John Carney, is marvelous, delightful and just plain great. Read my full Sing Street review after the jump.
It's 1980-something in Dublin, Ireland and 15-year old Conor (Ferdia Walsh-Peelo) has just been moved to the rough, inner-city public school of the Christian Brothers, a strict establishment full of rambunctious boys. His parents are having a tough time financially, as well as romantically, and Conor finds his escape to in music. While he's always loved the pop tunes topping the charts, he's never wanted to form a band until he meets Raphina (Lucy Boynton), an intriguing girl who hangs out across the street from school and claims to be a model.
And so Conor rounds up a ragtag team of some of the dorkier kids from Christian Brothers to form a band so they can shoot a music video for Raphina to star in, just like in a Duran Duran video. Luckily, one of their prospects can play pretty much any musical instrument because his dad is in a wedding band, giving them everything they need to make it happen.
What follows is a stellar journey through the music of the 1980s as Conor's college dropout brother Brendan (Jack Reynor) keeps broadening his musical horizons, prompting changes in the band's style from The Cure to Duran Duran to The Clash and more. And this band of kids delivers some songs that you won't be able to get out of your head. They sound right at home in the 1980s, to the point that you would think they came straight from the decade instead of the mind of the brilliant John Carney.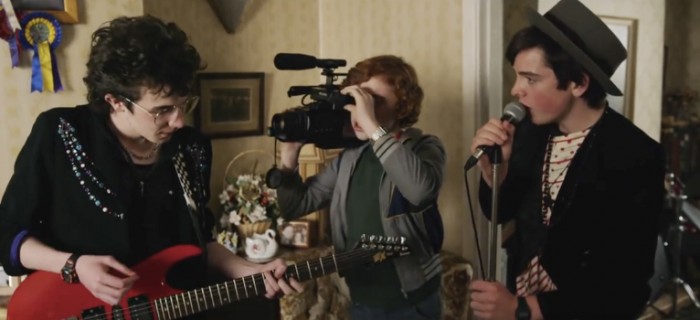 Sing Street makes you feel like you're growing up all over again. Even if you weren't raised in the '80s, this movie will take you right back to your formative years and keeps you tapping your foot the whole way. It's almost impossible to resist clapping along with the band's stellar single "Drive It Like You Stole It" (you can hear it at the end of the film's trailer right here), especially when the sequence that features the song plays like a brilliant music video straight from MTV.
It's not just one song that keeps this movie rockin' either, as John Carney's original tunes pay tribute to the pop rock bands already mentioned and more. And Walsh-Peelo feels like a star in the making with his stellar vocals (especially in the acoustic ballad "On My Way to Find You") and undeniable charm and aplomb.
While Sing Street may not be the most original story, it brings such a passion and authenticity to the familiar boy-meets-girl trope that it's just too endearing to resist. Even the heightened romantic ending brings such pure joy. Plus, it helps that surrounding the romance there's the surprisingly touching and poignant bond that exists between Conor and his older brother. Reynor does an outstanding job as the sibling who supports Conor while simultaneously regretting that he never took the same risks to follow his own heart and chase his own dreams when he was a teen. Reynor, best known to American audiences from Transformers: Age of Extinction, should have a bright future ahead of him.
Sing Street is undoubtedly a crowd-pleaser, and another fine example in cinema of music saving someone's life. John Carney has delivered something more conventional than his previous efforts, but he's poured so much genuine care into the proceedings that you can't help but fall in love. This film is truly a triumph, and I can't wait to play the soundtrack on repeat whenever it becomes available.
/Film Rating: 10 out of 10