Ryan Reynolds And Morena Baccarin Get Frisky In The First 'Deadpool' Clip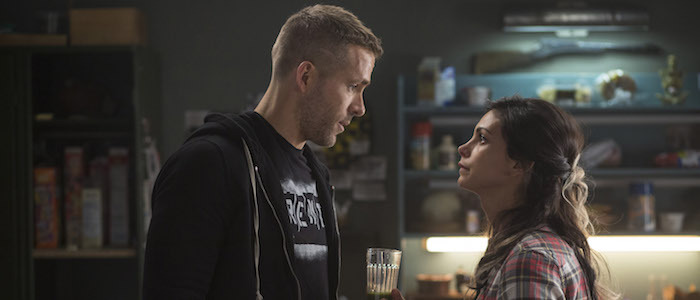 The first Deadpool clip has arrived and it's probably not what you'd expect. The red-suited "merc with a mouth" is nowhere to be seen. There are no edged weapons or firearms. The wisecracks are few. There's not even a single drop of blood! However, we do get Ryan Reynolds' Wade Wilson and Morena Baccarin's Vanessa Carlysle having a sweet little scene that seemingly exists just so it can climax with two out-of-nowhere dirty jokes, one of which involves (pixelated) Ryan Reynolds nudity.
Check out the clip, and Ryan Reynolds' posterior, below.
Since Reynolds' face is still its usual handsome self, this clip seemingly takes place early in the film, before Wade Wilson is diagnosed with cancer and subjected to experiments that transform him into a hideously deformed, wisecracking superhero with more than a few axes to grind. It's definitely a weird choice for a debut clip – you'd think that the first full scene released from an upcoming superhero movie would involve a little action and mayhem, but hey, what do we know about marketing movies?
Okay, so it's not the most dynamic clip in the world, but I'm a sucker for a good Ring Pop joke and Reynolds and Baccarin seem to have a pretty smooth dynamic. At the very least, this could mean that the scenes in Deadpool that don't involve copious amounts of action and bloodshed will, at the very least, be anchored by characters who can hold their own in a conversation. Especially if those conversations always conclude with a filthy comedy gag or two.
Deadpool arrives in theaters following a lengthy development process that saw 20th Century Fox seemingly weigh every possible option before giving the film a green light. Now the finished movie is only a few weeks away and the marketing is omnipresent and early reaction to the film has been very positive from both fans and Deadpool creator Rob Liefeld alike. Maybe this is the exact kind of clip that needed to be released. Superhero fans were always going to see this movie no matter what. But now, their superhero-agnostic parters and friends may stumble across a clip where two very attractive and funny actors have a bizarrely romantic interaction and decide to plunk down their cash. Hey, don't underestimate the power of Ryan Reynolds' butt when it comes time to sell movie tickets.Deadpool, which is directed by Tim Miller and also stars Gina Carano, T.J. Miller, Ed Skrein, and Brianna Hildebrand, opens in theaters on February 12, 2016.