Cool Stuff: 'Ratatouille' LEGO Creation Needs Your Help To Become An Official Set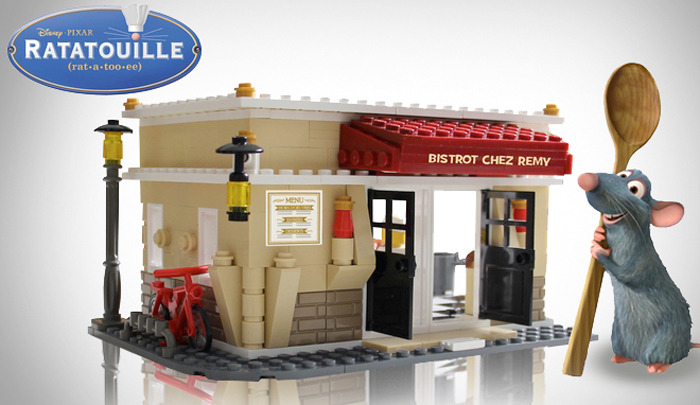 Next year will mark the 10th anniversary of Pixar's delicious Ratatouille, and one fan wants to get a head start on celebrating by getting a custom LEGO set for the Pixar Animation movie to become official.
LEGO Ideas user Carlierti has created a LEGO version of the Bistrot chez Remy, the French restaurant from the end of Ratatouille that gives the brilliant little rodent chef the perfect outlet for his wonderful culinary skills. And he even has the perfect minifigures to go along with it. Check out more pictures of the Ratatouille LEGO set after the jump!
Here are the photos straight from Carlierti's LEGO Ideas page for the project:
The creator acknowledges that a new LEGO minifigure for Remy would probably need to be created, but I'd go so far as to say that all the minifigures could be stylized to look more like Pixar characters. It wouldn't be out of the realm of possibility for LEGO to do that since they created some unique minifigures for their Toy Story 3 LEGO sets that have since been retired.
We've featured plenty of these custom LEGO Ideas sets (like these Stan Lee LEGO sets), so you should know the drill by now. It needs 10,000 votes in order to go in front of the LEGO jury to be considered to be turned into an official set, and you can support the project right here. There's no guarantee that it will get approved, but it's worth a shot. If it doesn't work out, maybe they can figure out a way to incorporate the characters into a LEGO Creator set that has a detailed kitchen in it.