'Game Of Thrones' Season 6 Teasers Remind You Everyone Is Dead, Everything Is Horrible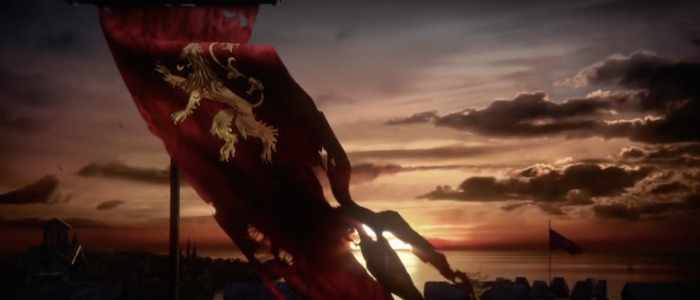 Things have been awfully quiet on the Game of Thrones news front and that's because HBO knows that we will beg for scraps and be happy when they toss us vague teasers and tiny snippets of new footage. Not even the return of Bran Stark can deter us from one of the most consistently entertaining and impeccably crafted television shows in the history of the medium.
So today, we present a new offering of scraps: three brief Game of Thrones season 6 teasers, each one reminding you that the great houses of Westeros are totally screwed and that there are more than a few nasty villains still drawing breath and threatening the heads of your favorite characters.
Each of the three teasers follows the same pattern: a camera pulls back across a recognizable region of Westeros, eventually revealing the tattered banner of a noble family. Meanwhile, the voice of of a despicable villain reminds us why we hate their guts and why they deserve to die in a fire.
The first teaser is a cruel reminder that the vicious Ramsay Bolton still holds Winterfell, having repelled Stannis Baratheon's forces in the season 5 finale. The second lets the High Sparrow have a moment, letting the unbendable religious leader once against establish himself as one of the greatest threats the Lannister clan has faced yet. And the third one has a mysterious voice, speaking in what sounds like Dothraki, informing Daenerys of House Targaryen that she is no longer in position of power now that she's fled her shattered kingdom.
In other words: everyone is in dire peril and everything sucks and the new episodes simply can't get here fast enough.
Season 6 is going to be must-see television by its very nature, but it will be a unique pop culture event because it will showcase exactly what happens when an adaptation of a book series actually manages to outpace that book series. For the first time, Game of Thrones the show will start spoiling George R.R. Martin's A Song of Ice and Fire novels, which is a fascinating and bizarre predicament. However, the series has already changed enough its source material so much that both versions should be able to stand on their own. Reading Martin's The Winds of Winter, when it eventually arrives in 2087 or so, will be a very interesting experience after having already seen how showrunners David Benioff and Dan Weiss adapt material that hasn't even been published yet.
Game of Thrones season 6 is set to premiere on April 24, 2016. Everyone you love will die.