'Sleight' Is A Must-See Thriller About A Street Magician [Sundance Review]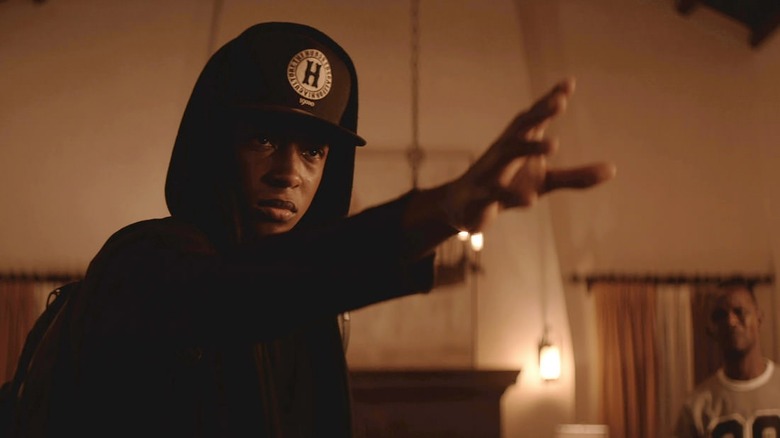 Sleight is like Doug Liman's Go crossed with Now You See Me, with a side of Chronicle. Smart, fun, and thrilling, JD Dillard's feature film debut will likely be a fast sale at Sundance as it provides some great high concept ideas at a micro budget.
Sleight Movie Review
"Anyone can learn a trick, but doing something nobody else can do makes you a magician."
The story follows a young street magician named Bo (The Maze Runner's Jacob Latimore) who is taking care of his little sister Tina (12 Years a Slave's Storm Reid) following the death of their mother. Performing magic on the streets for tourists isn't enough to pay the bills, so Bo has turned to peddling drugs at clubs and parties for a local drug dealer Angelo (Psych and West Wing's Dulé Hill). Making clever use of his sleight of hand skills, Bo is able to avoid trouble from the police. See the clip below:
When another dealer tries to take over the Los Angeles market, Bo is propelled into a world of guns and gang violence, definitely not the "selling dime bags to club-goers" job he signed up for. Along the way, Bo falls for a girl named Holly (Seychelles Gabriel, a stand-out from the television series Falling Skies).  And of course, quitting the drug business isn't as easy as it sounds – the film transitions from a moretypical indie drama into a comic book origin story disguised inside a thriller. How will Bo use his magic skills to get out of this situation?
Dillard is a refreshing new filmmaker who is certainly one to watch. This may be his first feature film, but Dillard has directed some music videos and is also developing a film project for Bad Robot and Paramount Pictures (the details on this project are unknown). When I saw Safety Not Guaranteed at Sundance a few years back, I knew that Colin Trevorrow was about to be tapped for much bigger films (but even I wouldn't have predicted Star Wars and Jurassic Park sequels). I think its easy to see Dillard will probably also capture the attention of Hollywood genre films — I could definitely see him at the helm of a future Marvel movie.
The film isn't produced by Bad Robot but if the thrilling mystery box-infused climax feels like something from J.J. Abrams' production company — it may as well have been. Director Dillard wrote the film while he was working at the front desk at Bad Robot. The film's crew is filled with insane talent from inside Abrams' Santa Monica-based mystery box. The diverse ensemble cast is pretty great, and its no wonder that one of the film's casting directors Jessica Sherman (who worked alongside Lindsey Weissmuller) had access to all the talent from the extensive search for actors and actresses for Star Wars: The Force Awakens. The music in the film is exceptional, created by Charles Scott IV, who has worked as a music supervisor for most of Bad Robot's productions (credited and uncredited).
Sleight is playing as part of Sundance's NEXT competition, which focuses on emerging new talent.  The screenplay was written in just five days and filmed over 17 days on a six-figure budget. The film sometimes feels rough around the edges, and certainly shows its low budget at moments. Some of the low-fi VFX probably needs a few more passes before this movie goes theatrical.
And as a magic nerd I was disappointed to see a couple card tricks that just wouldn't be possible in any reality. But this isn't like Now You See Me with overdone computer generated miracles; often times the film features some real cardistry thanks to Zach Mueller and some real magic tricks. Outside of the two effects that annoyed me, most of the tricks are either based on real effects performed by street magicians and could be accomplished practically (even if movie magic is used in some cases). It was also nice to see a cameo appearance by Los Angeles' pop culture art gallery Gallery 1988.
/Film Rating: 8 out of 10