'The Exorcist' TV Series: The Power Of Christ Compels A Pilot Order At Fox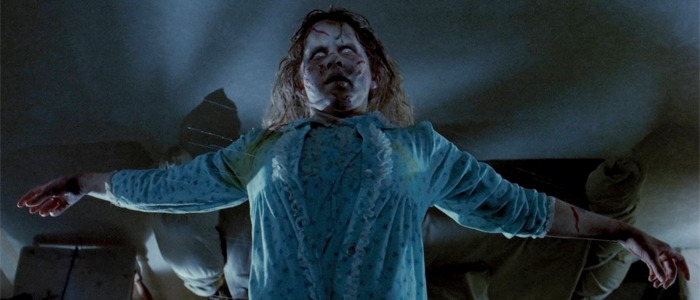 This March, we'll see The Omen all grown up with A&E's new drama series Damien. And now another horror classic will be getting the TV series treatment as well. Fox has ordered an adaptation of William Peter Blatty's book The Exorcist for a pilot that will hopefully launch a new TV series on the network. The book has already been turned into a feature film that debuted in 1973 and absolutely scared the wits out of audiences, stirring up plenty of controversy, so The Exorcist TV series will have a lot to live up to.
THR has the update on The Exorcist TV series which has actually been in development since 2012. Originally, Martha Marcy May Marlene director Sean Durkin was working on the series, but he's since fallen away. In 2013, last year's Fantastic Four reboot writer Jeremy Slater was hired to script the adaptation, and he's actually stuck with the project that will be executive produced by James Robinson, David Robinson and Barbara Wall.
Before you get bent out of shape about Slater writing the script and throw all hope out the window, it's important to remember that the original script for Fantastic Four was not really what we saw in the final big screen version. There was plenty of meddling behind the scenes, and Slater's script was pretty much ruined in the end. So there's actually a good chance Slater could make this something worth watching.
However, one thing that may be worth worrying about is that Fox didn't exactly do a great job with their series adaptation of Minority Report. It was boring, lifeless and just felt cheap. So hopefully the network doesn't just phone it in with The Exorcist.
Of course, it's not as if the legacy of The Exorcist hasn't been tainted already. Yes, the 1973 film directed by William Friedkin is still a classic is is largely considered to be one of the best horror films of all time. Every exorcism movie takes cues from The Exorcist, and that's why they've become cliche. But let's not forget that the film was followed with Exorcist II: The Heretic in 1977, The Exorcist III in 1990, Exorcist: The Beginning in 2004 and Dominion: A Prequel to the Exorcist in 2005, none of which did much for audiences.
On the novel side of things, Blatty also wrote a sequel called Legion in 1983. It remains to be seen how The Exorcist would be adapted to fill an entire series, unless there are multiple exorcisms that will be happening, but perhaps that sequel novel could help inform the direction of the series beyond the story we all know from the first film/book.
The Exorcist TV series only has a pilot order for now, so if it doesn't impress the network executives, we may never get a chance to see it. However, as someone who doesn't really care for American Horror Story, it would be nice to get some more quality horror programming on television. And if you need a reminder as to how scared people were of The Exorcist in 1973, here's a little reminder.