'Labyrinth' Getting Rebooted With 'Guardians Of The Galaxy' Writer Nicole Perlman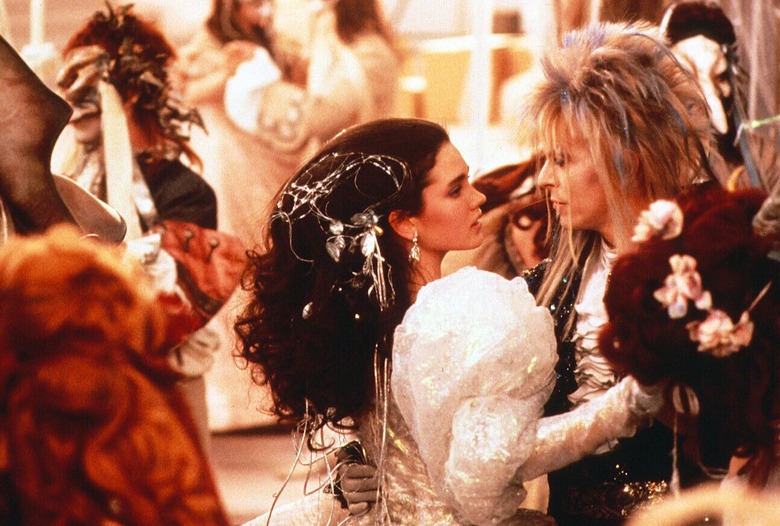 This year marks the 30th anniversary of Labyrinth, the Jim Henson-directed fantasy that starred David Bowie and Jennifer Connelly. And to mark the occasion, Tri-Star and the Jim Henson Co. are looking to dive back into that Labyrinth. The companies have closed a deal to reboot the film, and have already set Guardians of the Galaxy co-writer Nicole Perlman to write the script. 
THR broke the news of the Labyrinth reboot — though perhaps we shouldn't call it a Labyrinth reboot just yet, as it's unclear whether this new movie will be a reimagining, a sequel, or some other form of revival. Lisa Henson, daughter of Jim Henson, will produce, and Nicole Brown is overseeing the project for Tri-Star.
Executive produced by George Lucas, with a screenplay by Monty Python member Terry Jones, Labyrinth was the last film directed by Henson. The story follows a teenage girl (Connelly) whose younger brother is kidnapped by Jareth the Goblin King, played by Bowie. She follows them to Jareth's fantastical kingdom, where she is given thirteen hours to solve the Labyrinth and save her brother.
The film received mixed reviews from critics and was considered a commercial disappointment, but has gained cult classic status in the years following. Labyrinth was a breakthrough for Connelly, who was just 16 at the time, and Jareth is considered one of Bowie's signature roles. No casting has been announced, so guess away at who (if anyone) will face the massive challenge of following Bowie as Gareth.
Perlman worked on Guardians of the Galaxy before Gunn signed on, and she is now working on Captain Marvel with Inside Out writer Meg LeFauve. Another fantastical adventure looks to be right in her wheelhouse, though we kind of wish it didn't have to be this particular fantastical adventure.
It's hard not to think the timing of the announcement is a bit tacky, coming as it does on the heels of Bowie's death. Then there's the question of whether Labyrinth really needs to be revived to begin with: I'm guessing most fans will say no. Are you excited to see Labyrinth return?