Cool Stuff: 'The Hateful Eight' Gets Delightfully Retro Action Figures From NECA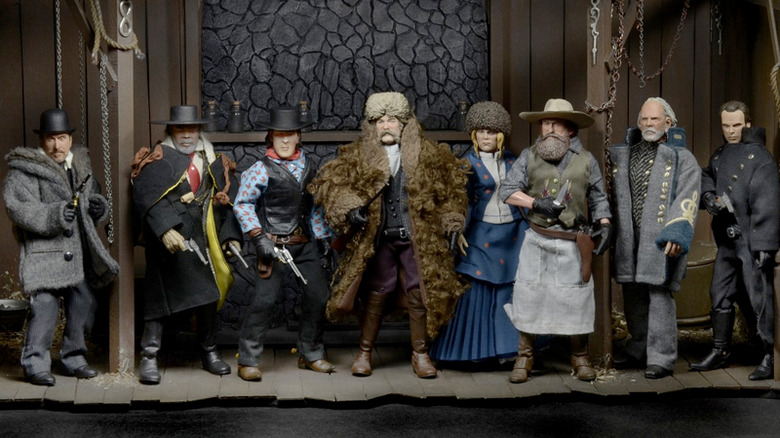 If you saw The Hateful Eight and thought to yourself, "I'd love to recreate this whole bloody mess with a series of action figures," then we have the best news possible. NECA is coming out with a line of action figures for each of the titular characters in The Hateful Eight, and they're some delightfully retro designs. Get a closer look at each of The Hateful Eight figures after the jump!
Here's a better look at all of The Hateful Eight figures from NECA (via ToyArk):
As you can see, every member of the titular group of stranded travelers is accounted for: Major Marquis Warren (Samuel L. Jackson), General Sandy Smithers (Bruce Dern), Joe Gage (Michael Madsen), Sheriff Chris Mannix (Walton Goggins), John Ruth (Kurt Russell), Oswaldo Mobray (Tim Roth), Bob (Demián Bichir), and of course, Daisy Domergue (Jennifer Jason Leigh).
Inspired by the classic 7-inch Mego dolls from decades ago, these are probably not toys for your kids to be playing with. There really is no reason for a child to recreate the scene where Major Marquis Warren tells General Sandy Smithers that the Major had the General's son provide lip service to his johnson, only to have his own manhood shot to bits later on.
But if you're an adult who wants these figures for your own collection, it might be hard to get your hands on them, because each character will only have 3,000 figures available and no more. They'll cost $30 each, which means the whole set is going to run you $240. So good luck getting ahold of them when they are available for purchase in March.