Kristen Wiig's Fake Skincare Ad For 'Zoolander 2' Is Perfection; Plus 3 More TV Spots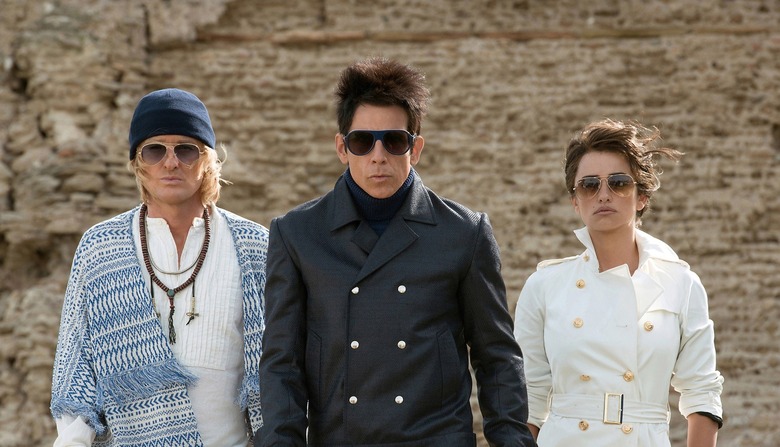 It's hard to believe it's been 15 years since the first Zoolander, especially given how well Derek and Hansel's handsome mugs have aged. Which is to say, not very much at all. Perhaps they've been been slathering on some of that Youth Milk from the House of Atoz Beauty Laboratory — the top-of-the-line skincare company spearheaded by Kristen Wiig's bizarre beauty guru character, Alexanya Atoz.
The latest Zoolander 2 promo takes the form of a promo for Youth Milk, and it's the best beauty ad since Derek Zoolander, as the face of Aveda, uttered the immortal line "Moisture is the essence of wetness, and wetness is the essence of beauty." Watch the Youth Milk ad, plus more Zoolander TV spots, after the jump. 
First up, some more Zoolander TV spots.
"I miss not knowing things with you!" Aw, that's about as sweet as these two idiots are capable of getting.
Though much of Zoolander 2 looks like familiar territory (and not necessarily in a bad way), it's also got some intriguing new additions. Like Alexanya Atoz, apparently some kind of eccentric skincare guru. Here, she's seen hawking the anti-aging serum Youth Milk, from the House of Atoz Beauty Laboratory.
The Youth Milk ad is perfection. It looks enough like a real skincare ad that it could almost pass for one if you weren't looking too closely. Or listening too closely. Atoz's thick accent has a way of making even the most innocuous sentences — like "Inside our state-of-the-art lab are many cooks" – sound extremely NSFW. Wiig has recently earned high praise for subtler, more dramatic performances in films like The Diary of a Teenage Girl and The Skeleton Twins, but it's nice to see she can still tap into her inner over-the-top weirdo when the occasion demands it.
There's also a Charlie Rose interview with famed fashion designer Don Atari, played by Kyle Mooney.
We'll have to wait and see how Zoolander 2 actually turns out, but its marketing game is, as the kids used to say, on point. Ben Stiller, in character as Derek Zoolander, has walked an actual Fashion Week runway and nabbed the cover of an actual issue of Vogue. The real fashion world apparently loves Zoolander as much as the parody fashion world does in those movies.
Zoolander 2 arrives in theaters February 12.
When the world's most beautiful musical celebrities are systematically assassinated with formerly famous male model Derek Zoolander's iconic "Blue Steel" look on their face, Interpol recruits Derek and his friend Hansel McDonald to infiltrate a new and different world of high fashion in order to put a stop to it. Meanwhile, Derek's rival Jacobim Mugatu is set free and is seeking revenge.