This 'Southbound' Clip Will Pursue You Across A Terrifying Desert Highway For Eternity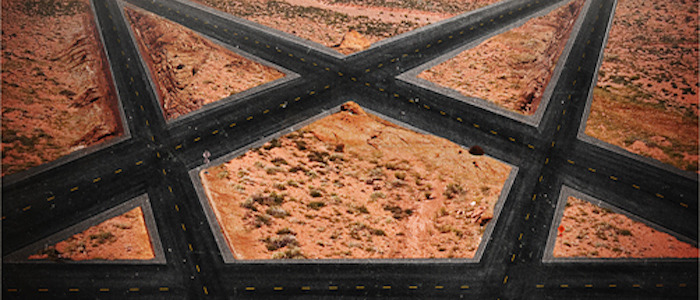 Horror anthologies may be the best form of horror movie.
Seriously. If you start watching a lousy scary movie, you have to find it within yourself to endure 90-plus minutes of something you're not enjoying. But an anthology, which divides the running time into a collection of different stories, keeps you on your toes. If you're not enjoying the current storyline, just wait 15 minutes for the next one to start.
So the anthology structure of Southbound already has us interested in what this movie has to offer. A cool poster, an impressive trailer, and the online-in-an-official-capacity opening scene ensure that we'll be checking this one out. You can watch the Southbound opening scene below.
While older horror anthologies tended to just group together a series of entirely unrelated horror tales, the modern stabs at this form tend to link these disparate tales in clever ways. Trick 'r Treat let its various characters cross paths, occasionally witnessing odd moments that would be explained in a later segment. The V/H/S series breaks up its tales of terror with connecting tissue that finds characters actually watching the movie with you. The five stories told Southbound are connected by a single location: a desolate stretch of highway where a variety of bad things happen to unfortunate travelers.
The film's opening scene, from a segment directed by the directorial quartet known as Radio Silence (who directed Devil's Due as well as a segment in V/H/S), can be watched below. Thanks to Film School Rejects for bringing this to our attention.
The other Southbound directors include Roxanne Benjamin (a producer on V/H/S), David Bruckner (a co-writer and co-director on The Signal), and Patrick Horvath (The Pact II). For a taste of what else to expect, you can watch the film's full trailer below.
Although I missed Southbound at last year's Fantastic Fest film festival, I remember the response being generally positive. As with most anthology films, some segments were hits and others were duds, but the general consensus was that the good outweighed the bad. For the horror genre, which is home to so many indescribably awful movies, that's a rave review.
Here's the official synopsis:
On a desolate stretch of desert highway, weary travelers—two men on the run from their past, a band on their way to the next gig, a man struggling to get home, a brother in search of his long-lost sister and a family on vacation—are forced to confront their worst fears and darkest secrets in these interwoven tales of terror and remorse on the open road.
Southbound will open in limited release and arrive on VOD next month. Here's the film's (totally incredible, right?) poster.