Star Wars Bits: New 'Star Wars Rebels' Footage, 'Episode 8' Rewrites, Star Wars: Rebellion Board Game Review, Disneyland Star Wars Land Details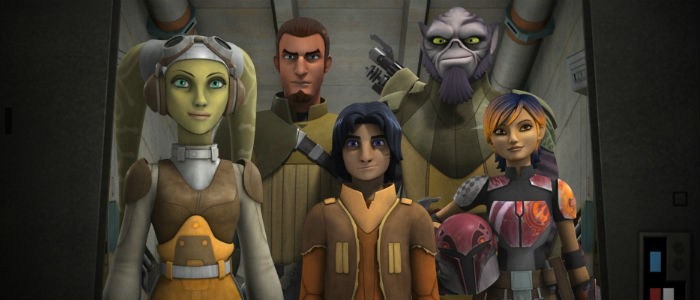 Welcome back to Star Wars Bits, your regular source of Star Wars news in bit-form! In today's edition:
Don't expect a new live action Star Wars series anytime soon.
Do expect some new Star Wars Rebels footage.
Yes, Princess Leia is getting a Rebels action figure.
Updates on the Star Wars: Episode 8 rewrites.
Rian Johnson offers some appropriate music for Episode 8's new release date.
New details of Disneyland's Star Wars Land revealed.
An early review of the Star Wars: Rebellion board game.
And more!
If you were hoping to see a live action Star Wars television series anytime soon, start lowering those hopes right now. TV Line reports that there are no current plans to produce a series of this kind, so you had better just hug Star Wars Rebels all the tighter. Interestingly, one unnamed industry insider called this "smart brand management" and praised Lucasfilm and Disney for "looking to avoid the Marvel-ization of the franchise." And we get that – how many people actually watch Marvel movies and Marvel Netflix shows and Agents of S.H.I.E.L.D. on ABC? Restricting live action Star Wars to the big screen may be the best way to maintain the franchise's mystique and power as Lucasfilm starts pumping out one movie a year.
When it was announced that Star Wars: Episode 8 was jumping from a May 26, 2017 release to December 15, 2017, writer/director Rian Johnson shared this oddball gem. In other words, how lucky are we that this guy is making a Star Wars movie?
Obviously the December date worked out very (very) well for them but I've also heard they are rewriting the script.

— Borys Kit (@Borys_Kit) January 20, 2016
I've heard from several sources the rewrites are positive, based on audience reaction to the new characters. People loved them.

— Borys Kit (@Borys_Kit) January 20, 2016
So strongly. And Lucasfilm was surprised at how well they were received, according to several sources.

— Borys Kit (@Borys_Kit) January 20, 2016
Speaking of that Star Wars: Episode 8 release date change, The Hollywood Reporter's Borys Kit confirmed rumors that Johnson is working on a new draft of the screenplay that will increase the roles of the Rey, Finn, Poe Dameron, and Kylo Ren. It seems that nobody at Disney and Lucasfilm was prepared for these characters to prove so popular and new characters are being reduced to give these returning favorites more screen time. As far as reasons for rewrites go, that's a pretty good one.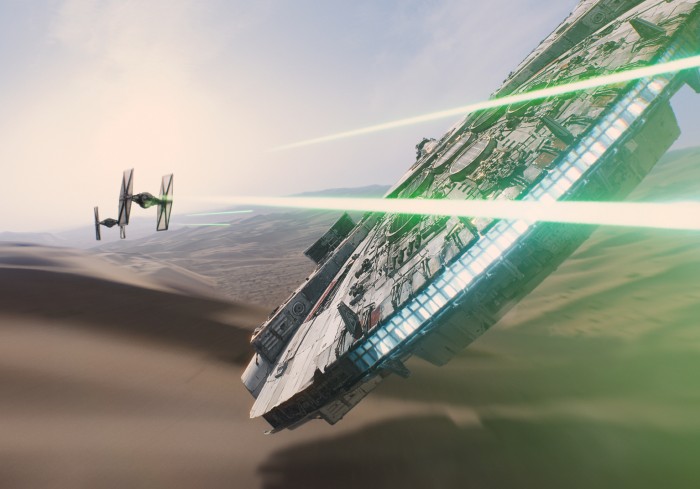 With construction on the Star Wars Land set to begin very soon at Disneyland, Making Star Wars has revealed a slew of new details about what we can expect to see in this ambitious new expansion. Some of this aligns with what we already know (the area will open with two major attractions in addition to shops and such), but some of it is totally new and showcases how Disney Imagineers are already utilizing their knowledge of Rogue One and Episode 8. Here's what you need to know:
Poe Dameron's black X-wing fighter will greet guests at the 3rd entrance to Star Wars Land, although an Episode VIII feature to the fighter might make it different from what we know about it from The Force Awakens.
Characters and creatures from Star Wars: Episode VIII will be featured in the park.
The Falcon will be real, life sized, not scaled down at all, and sitting on top of a launch pad.
The Falcon will be opening and closing its main door and aliens/ troopers will be walking around asking people if they've seen anyone leave the ship.
There will be two major attractions, one larger than "Toon Town" itself.
Don't worry about not being able to go inside the Falcon. One of the major attractions will take care of that for you as you fly in the cockpit of the freighter itself.
The word is the Imagineers loved the Rogue One: A Star Wars Story script, but if that will come into play is still hazy. Initial word was the second major attraction would feature Rogue One content, but now that appears to be somewhat unlikely.
It's no secret that this expansion is Disney's way of directly competing with Universal Studios' Wizarding World of Harry Potter and it looks like they're truly going for broke. Here's our next question; will the Star Wars Land at Walt Disney World in Florida feature the same details or will it be a different experience altogether?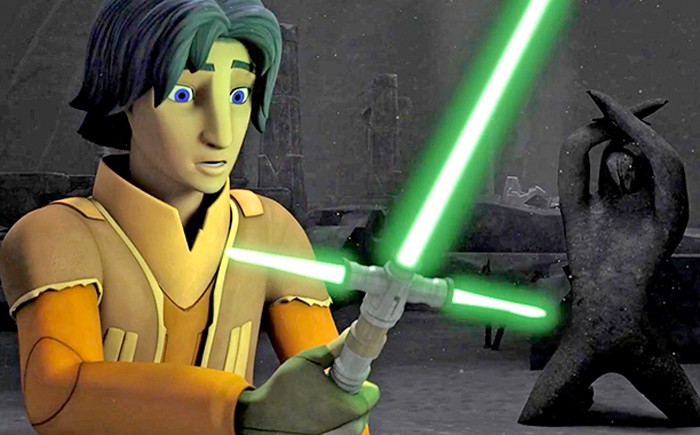 Speaking of Star Wars at Disney theme parks, it looks like you will soon be able to meet Star Wars Rebels characters at Walt Disney World. Disney Auditions has revealed a casting call looking for actors to portray Ezra and Sabine:
Ezra Bridger: male, 5'3" – 5'7", slender build; Ezra is a street-smart orphan who has savvy, charm, and a strong survival instinct.  Must be at least 18, but resemble a 14 year-old kid.
Sabine Wren: female, 5'4" – 5'8", slender build; Sabine is an expressive, colorful, and energetic saboteur.  She maintains and customizes the group's technology and weaponry.
If you live in central Florida, fit that description, and could use some work, follow that link above. Otherwise, prepare to wait in line for 30 minutes to have your picture taken with these two.
I actually forgot I had worked on these a long, long time ago. I'm not sure if they ever saw the light of day but it was a fun exercise nonetheless. #starwars #starwarsart #darthmaul #clonetrooper #anakinskywalker
A photo posted by Eric Tan (@erictanart) on
Artist Eric Tan has revealed this Star Wars prequel trilogy poster set that he designed and never previously released. Say what you want about the prequels, but that is some pretty slick art.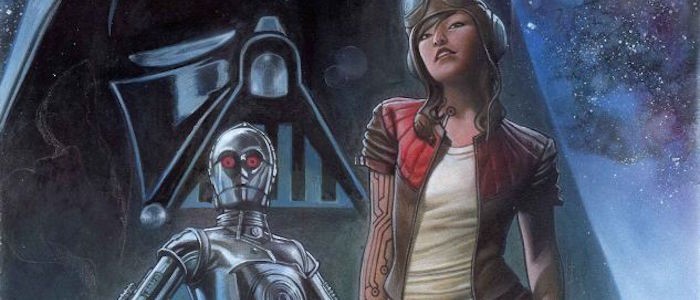 io9 has assembled a very entertaining list of the best new Star Wars characters who aren't in Star Wars: The Force Awakens. If you want to get to know these men, women, droids, and aliens, you'll have to dig into all of the new comics and novels. My personal favorites on the list: Doctor Aphra and the droids 0-0-0 and BT-1, who give Darth Vader a support team worthy of his infamy in the pages of Marvel's Darth Vader comic.
The board game review series Miami Dice has posted their review of Star Wars: Rebellion and it's nothing short of a rave. We'll be posting our own review of this huge game – which simulates the battle between the Rebel Alliance and the Empire in minute detail – after it hits shelves in February.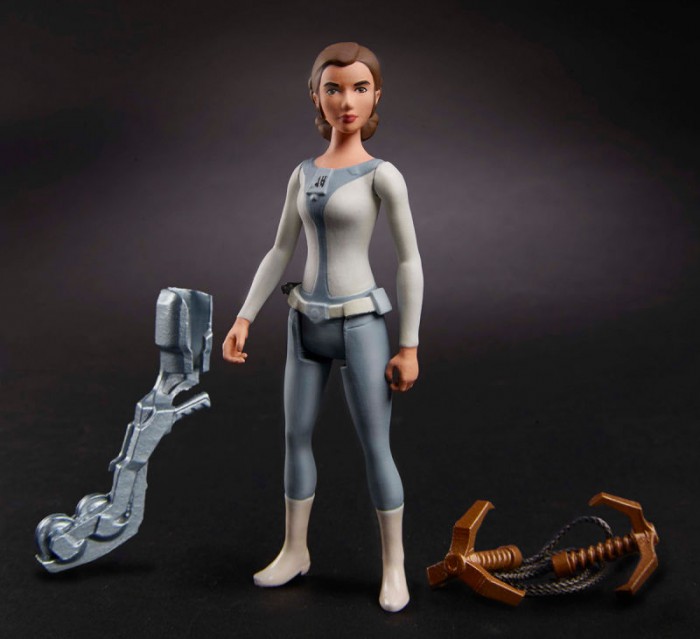 It looks like we won't have to start a "Where's Leia?" campaign anytime soon. Following all of the hubbub surrounding the lack of Rey toys available for purchase, Hasbro has revealed that Princess Leia will be getting a new action figure inspired by her appearance on Star Wars Rebels. And yes, her new outfit is based on old Ralph McQuarrie concept art.
And while we're on the subject of Star Wars Rebels, Disney has released a new midseason promo teasing episodes to come. The emphasis here is on action beats and comedy, so even you serious spoiler-dodgers can get away with watching this one.
And finally, a new clip from the next episode of Star Wars Rebels, titled "The Protector of Concord Dawn," has arrived online. Here's how Lucasfilm describes it:
In this preview of the Star Wars Rebels episode "The Protector of Concord Dawn," Sabine is cornered by a group of armed Mandalorians forcing her to reveal her parentage. Though the details of her history may have earned her some new enemies...