Kevin Smith's 'Yoga Hosers' Is Getting A Comic Book Prequel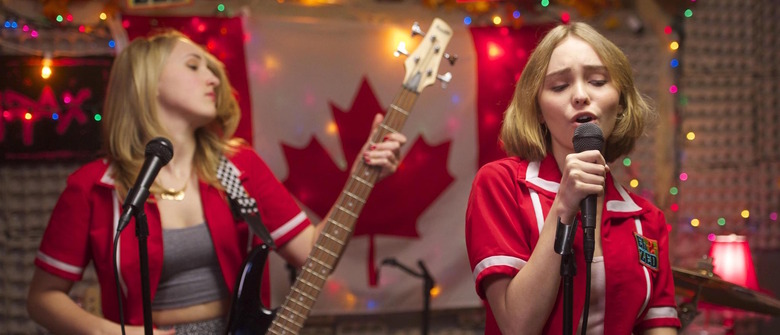 Yoga Hosers, the second film in Kevin Smith's True North trilogy, makes its world premiere at the Sundance Film Festival this Sunday, January 24. But if you saw Smith's last film Tusk, you'll be familiar with its lead characters already — Colleen and Colleen (Harley Quinn Smith and Lily-Rose Depp, the teenage convenience store clerks who were questioned by Johnny Depp's Guy LaPointe. And if you'd like to know even more about these gals, you're in luck, because they're also getting an origin story of sorts in the form of a comic book.
Written by Smith and illustrated by Jeff Quigley, Yoga Hosers: When Colleens Collide tells the story of how the girls met and became BFFs. The Yoga Hosers comic book will be distributed at the Yoga Hosers premiere this weekend, and you can get your first look some pages after the jump. 
THR unveiled a preview of Dynamite Entertainment's Yoga Hosers comic book prequel, which you can see below.
Yoga Hosers follows two 15-year-old girls looking forward to an epic party. Their plans are derailed when an ancient force arises and threatens to unleash an army of monsters on their hometown of Manitoba. The Colleens save up with "legendary man-hunter" Guy LaPointe to save the day. The girls are played by the daughters of Johnny Depp and Kevin Smith, in case you hadn't already guessed based on their last names.
The Yoga Hosers comic book will be available exclusively at the film's Sundance Film Festival premiere, but anyone can get a peek inside the cover with the gallery above. The preview pages offer a little taste of the Colleens' personalities and their relationship. They're also loaded with Smith's brand of Canada humor: this isn't an "origin story" but an "eh-rigin story," a kid calls his nuts "Manitobas," and every "oot" is accentuated in the text.
Yoga Hosers doesn't have a release date yet, but it'll probably hit theaters sometime in 2016. It'll be followed by the third and final installment of Smith's True North series, Moose Jaws.