Mark Ruffalo Compares 'Thor: Ragnarok' To 'Midnight Run,' Which Is Really All You Need To Hear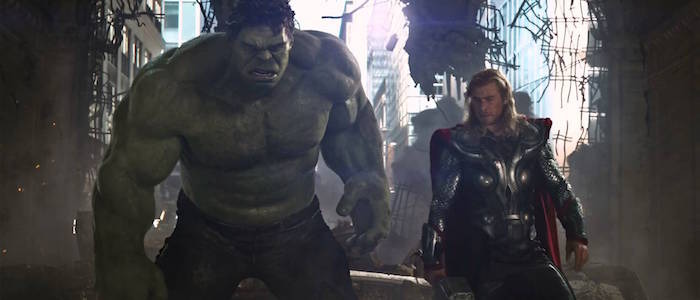 The first two Thor movies have their moments, but they're among the Marvel Cinematic Universe's more forgettable chapters. They never reach the heights of The Avengers or Captain America: The Winter Soldier, but they never tumble to the dismal lows of Iron Man 2. They're just kind of there, a great showcase for a handful of weird ideas and Chris Hemsworth's always entertaining lead, but not too much more.
Everything we've heard about Thor: Ragnarok suggests that Marvel Studios is trying to make the third solo adventure of the Odinson something special. First and foremost, it's no longer a solo movie
with Bruce Banner, a.k.a. the Hulk. And puny Banner himself, Mark Ruffalo, says the sequel a road movie in the vein of Midnight Run.
Ruffalo, fresh off an Oscar nomination for his work in Spotlight, spoke with
and mentioned one of the great road trip movies of all time while chatting about Thor: Ragnarok:
There's a little bit of Midnight Run, with [Charles] Grodin and [Robert] De Niro... I feel like that's kind of where we're heading with this relationship between Thor and Banner... It is a universal road movie – that's where we're heading... It's not where you'd think it will be, so it's not your classic road movie but it has that structure, I think.
Midnight Run is, of course, Martin Brest's 1988 crime comedy about a bounty hunter (Robert De Niro, back when him starring in a comedy wasn't instant bad news) transporting a Mafia accountant across the country, with mayhem all of kinds ensuing around them. If Thor: Ragnarok follows a similar template, with Thor and the Hulk traveling across the nine realms and getting into all kinds of mischief, we may be in for a big treat.
Plus, these two already
have a pretty contentious relationship
, so watching them work out their issues on a "universal" road trip should be a ton of fun. The last time we saw these two in Avengers: Age of Ultron, the Hulk was heartbroken and sending himself into exile while Thor was leaving Earth to deal with an apocalyptic crisis in Asgard. These two really could use a boost right now. Ruffalo is
of this duo's dynamic, telling Empire:
I love Chris [Hemsworth], and it's not an accident that we've been put together because we have a good time together and we goof off. The fact that we're moving towards the smart-comedic bent plays into our relationship.
This sounds like everything the Soul Forge operator ordered. Hemsworth has talked about
in the next Thor movie and
the hiring of director Taiki Waititi
, director of 
the incredible and incredibly hilarious
What We Do in the Shadows, suggests that Marvel wants the exact same thing. At this point, the impeccable
Cate Blanchett joining the cast
feels like a nice bonus attached to an already strong package instead of "Oh My Odin Carol Is Going To Be In A Marvel Movie!"
Thor: Ragnarok is set for a November 3, 2017 release.