'Term Life' Trailer: Dopey Kids, Bad Choices, And Vince Vaughn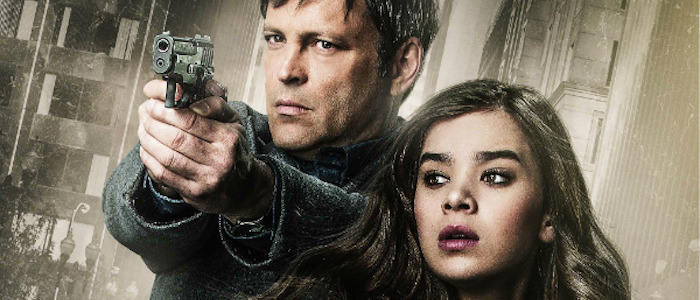 Over two years ago, Universal axed this adaptation of the Image Comics' Term Life. Adapted by the comic's writer, Andy Lieberman, the thriller was quickly revived. In 2014, cameras were rolling for director Peter Billingsley's (Couples Retreat) film, which stars Vince Vaughn and Hailee Steinfeld. Since principal photography, we've heard little about the project, but it's finally coming out this March.
Watch the Term Life trailer after the jump.
Term Life has been sitting on the shelf for a little while now, and you don't even see the Universal logo attached to the trailer. Focus World is now handling the release for the Vince Vaughn-starring vehicle. The film will be released on VOD first, and then followed by a theatrical release.
Here's the Term Life trailer (source: Yahoo! Movies):
You'd expect a wider release for a movie starring Vince Vaughn, Hailee Steinfeld, Bill Paxton, Mike Epps, Jon Favreau, Shea Whigham, Taraji P. Henson, and Terrence Howard. If Term Life didn't feature any of those names, though, its limited release would make sense, because the trailer isn't very promising.
Billingsley's first and last feature film was Couples Retreat, a movie that performed well at the box-office but wouldn't make you assume he's the right director for a thriller. It's always admirable when a director, actor, or any creative talent wants to push himself or herself and try new things. Maybe it'll work in the case of Term Life or maybe it won't. Perhaps this is just a poorly cut together trailer — and it is, based on how quickly cut some of the action is — but it certainly doesn't make you excited about the prospect of seeing Vince Vaughn in a comedic thriller.
Vaughn's career has taken an unexpected turn in the last year or two. While True Detective season two is often mocked, at least on the Internet, his performance is hardly a problem. Some of the dialogue Vaughn had to work with was tough, but when he needed to deliver, especially in the finale, he did. His performance grew more compelling as the season went along. Following Term Life, we'll see more of Vaughn trying out new material. He has a supporting role in Mel Gibson's WWII drama, Hacksaw Ridge.
Here's the synopsis for Term Life:
Everyone wants Nick (Vince Vaughn) dead. A desperate man, Nick takes out a life insurance policy on himself, payable to his estranged daughter (Hailee Steinfeld). But the policy doesn't take effect for 21 days and he might not live that long.
Term Life will be available On Demand and Digital HD on March 1st and opens in theaters on April 8th.