'The Invitation' Trailer: Something Doesn't Feel Safe Here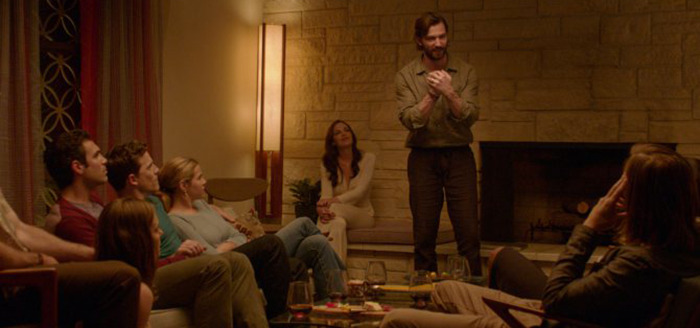 If The Invitation had been released last year, it would've made my top 10 films of the year list. I saw Karyn Kusama's unsettling thriller at last year's Fantastic Fest, and for the past few months, I haven't been able to shake it. Not just because it's a rather unnerving experience, but because of how expertly structured, acted, and shot it is. This is a movie that fires on all cylinders.
After the jump, watch The Invitation trailer.
A few months ago I would've said it'd be best to go into Kusama's film blind, but this trailer, courtesy of Entertainment Weekly, spoils nothing.
Here's The Invitation trailer:
Imagine The Parallax View, The Conversation, or Rosemary's Baby set during a dinner party in the Hollywood Hills, and you'll get a pretty clear idea of what The Invitation is. Kusama's film is more of a psychological horror movie than a bloody one. Whether things get bloody, I won't say, but what the protagonist (Logan Marshall-Green) experiences is both dramatic and chilling.
Kusama and the picture's co-writers, Phil Hay and Matt Manfredi, are keenly aware of audience expectations for this sort of material. The script and Kusama's direction toys with viewers' preconceptions, never letting them get ahead of the characters. Kusama's film is also, first and foremost, a thoughtful drama. The Invitation takes its time to explore what these characters are going through, making the horrors in the film all the more real.
Following Kusama's very good directorial debut, Girlfight, her career has had its ups and downs. She didn't have the most collaborative experience on Æon Flux and Jennifer's Body didn't do as well at the box-office as it should have. This is her most pure movie since Girlfight, a movie without too many cooks in the kitchen, and hopefully we see more uncompromising stories like this from Kusama in the future.
Here's the official synopsis:
In this taut psychological thriller by Karyn Kusama (Girlfight, Jennifer's Body), the tension is palpable when Will (Logan Marshall-Green, Prometheus) shows up to a dinner party hosted by his ex-wife Eden (Tammy Blanchard, Into the Woods) and new husband David (Michiel Huisman, "Game of Thrones"). The estranged divorcees' tragic past haunts an equally eerie present; amid Eden's suspicious behavior and her mysterious house guests, Will becomes convinced that his invitation was extended with a hidden agenda. Unfolding over one dark evening in the Hollywood Hills, The Invitation blurs layers of mounting paranoia, mystery, and horror until both Will—and the audience—are unsure what threats are real or imagined.
The Invitation opens in theaters March 25th and will be available on VOD.