New 'Batman V Superman' Footage: Take A Break From The 'Suicide Squad' Trailer And Give This A Watch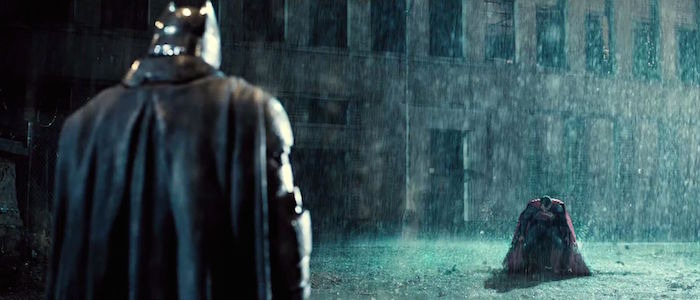 Batman v Superman: Dawn of Justice could be a very good movie, but you wouldn't know if from much of the marketing. The trailers have been all over the place. Some of the clips have been baffling. And yet, I've been wondering if the issue here has been entirely about the advertising and not necessarily the movie itself. None of the actual footage looked bad taken on its own, but the way it was being presented to us felt half-baked.
The CW aired a big special about the burgeoning DC superhero movie universe last night (with the stilted title of DC Films Presents: The Dawn of the Justice League) and, naturally, new footage from director Zack Snyder's upcoming superhero showdown was unveiled. And while there is enough new footage included here to be worthy of your dissection, what's really interesting is the footage we've already seen. When presented with flair and competence, stuff that looked rough before looks a helluva lot better.
In addition to new and old footage, the clip below also features Snyder, Ben Affleck and Henry Cavill as talking heads, with the latter two explaining the motivations of their characters. Affleck's Dark Knight saw what Superman's fight with Zod did to Metropolis and believes this alien menace will destroy the world. Cavill's Man of Steel thinks that Gotham's Bat vigilante is a ruthless menace who is no better than the criminals he is apprehending. Toss a couple of super villains and a powerful Amazon warrior into the mix and you have yourself a motion picture.
Without the obnoxious cutting and overbearing music seen in the most recent trailer, the footage comes off looking slick and impressive. Snyder's heavy stylization is still present, but the whole affair somehow manages to look a little less cartoonish and a little more like, well, a comic book. I'm an easy sell for most superhero movies (I really like Man of Steel) and have been looking for an excuse to get excited for this movie for some time now. Well, this presentation has finally given me a kernel faith. Job well done?
This clip was presented alongside a whole batch new stuff that should give you additional reasons to get interested in Warner Bros.' upcoming superhero movies. There's that Suicide Squad trailer, which wants to be Guardians of the Galaxy real bad and somehow succeeds. There's the first footage from Wonder Woman, which features Gal Gadot charging down World War I soldiers on horseback so of course I'm in. And there's also a glimpse at the other members of the Justice League, who look promising enough.
Batman v Superman: Dawn of Justice opens on March 25, 2016.