Average Movie Ticket Price Hits All-Time High In U.S. (And We Have 'Star Wars' To Blame)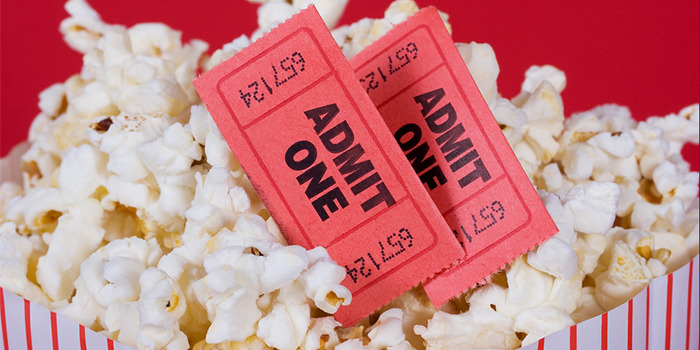 Has your wallet been looking kind of thin lately? Checking account balance a bit low? Credit card bills surprisingly high? Well, we don't know your life, so we won't presume to tell you exactly what your problem is. But it could have something to do with the fact that the average movie ticket price in the U.S. hit another all-time high in the final quarter of 2015. And while Star Wars: The Force Awakens isn't the only reason for that increase, it's a pretty big part of it. 
The National Association of Theater Owners (via TheWrap) reports that the average price of admission in American cinemas reached a record high of $8.70 in the fourth quarter of 2015. That's about a 5% increase over the same period last year, when tickets cost an average of $8.30. In all, the mean ticket price for all of 2015 in the U.S. was $8.43 — a 3.1% increase over the previous record of $8.17, set in 2014. Before Q4 2015, Q2 2015 held the record for the highest average ticket price in a quarter.
The main culprits for the rising cost of moviegoing are obvious. IMAX, 3D, and PLF (Premium Large Format) tickets all drive up the cost of a movie ticket, and there were plenty of action blockbusters released in pricey premium formats last year including Jurassic World (which grossed $652 million in the U.S.), Spectre ($199 million), and Mission: Impossible – Rogue Nation ($195 million). Star Wars: The Force Awakens, of course, blew all those other titles out of the water. By the end of 2015, the sci-fi sequel had racked up $600 million in domestic gross.
None of this should be remotely surprising. Heck, the last time we published a story like this, back in July, we predicted we'd be revisiting the subject right about now. Star Wars: The Force Awakens and all of its premium-format screenings were a huge part of what propelled the U.S. box office to hit a record gross of $11 billion last year.
But revenues and ticket prices are one story; attendance is another. If we take the yearly gross and divide it by the yearly average ticket price, we get a rough estimate of how many given people actually bought a ticket in a given year. And by that calculation, fewer tickets were sold in 2015 than in 2013, the previous record holder for annual revenue. Apparently, all the Star Wars nostalgia in the world can't make up for the fact that a lot of people would still really rather stay at home and marathon Making a Murderer.