The Force Awakens Bits: BB-8 Is Not Flipping Finn The Bird, Maz Kanata Deleted Scene, High School AU, More Box Office Milestones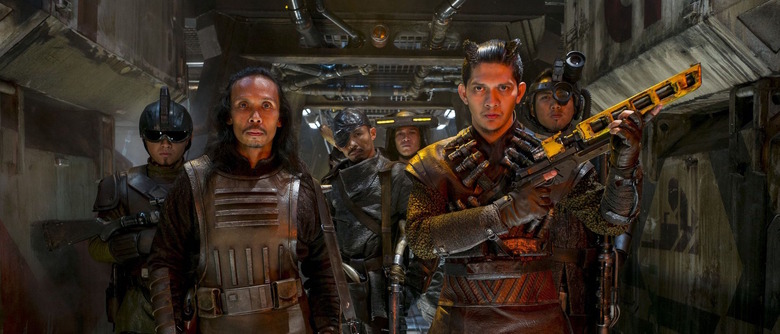 The now-Oscar-nominated VFX team of Star Wars: The Force Awakens is making the press rounds, and they've got a lot of interesting details to share. After the jump:
A fan reimagines The Force Awakens as a high school saga.
Does the Force Awakens score hint at Rey's parentage?
The Force Awakens crosses $1 billion at the international box office.
Was Maz Kanata in Star Wars: The Phantom Menace?
Confirmed: BB-8 was giving Finn a thumbs-up, not flipping him off.
Meet Cailey Fleming, who played young Rey in The Force Awakens.
Here's how the Star Wars crew brought BB-8 to life.
More Easter eggs have been revealed by the VFX team.
Get a detailed description of a deleted scene featuring Maz Kanata.
Flip through hi-res stills of Unkar Plutt, Admiral Ackbar, and more.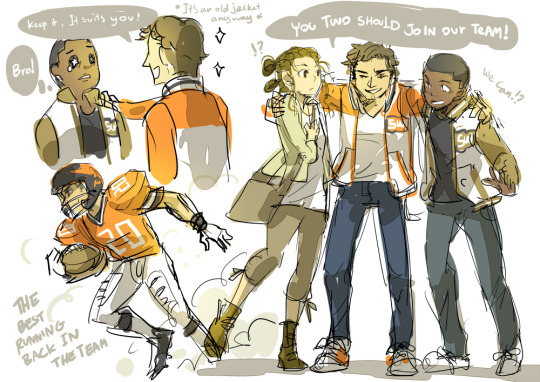 Tumblr user dc9spot imagines Star Wars: The Force Awakens as a high school saga, and it's pretty damn cute. Cutest of all, of course, is BB-8 as an orange-and-white Scottish Fold kitten. Read the whole comic here.
One fan has noticed (via Popsugar) that the last minute and a half of John Williams' The Force Awakens score sounds awfully familiar — kind of like a combination of Luke's theme and Rey's theme, perhaps. Is this further proof that Rey is really Luke's daughter? Or does it just reflect the fact that Luke and Rey are together at the end of the movie?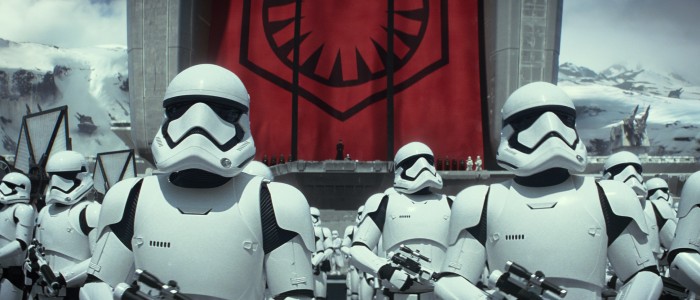 For the first weekend since it hit theaters, Star Wars: The Force Awakens was not the #1 film at the U.S. box office, getting beaten by both Ride Along 2 and The Revenant. Overseas, meanwhile, the film has crossed yet another big milestone. As of this weekend, The Force Awakens is only the fifth film in movie history to cross $1 billion at the foreign box office. It also just crossed $100 million in China, which isn't too shabby considering Star Wars isn't the pop culture juggernaut over there that it is here. Alas, while it opened at #1 there, it's already dropped down to #2 in its second weekend, falling behind something called Boonie Bears 3.
We officially met Maz Kanata (Lupita Nyong'o) for the first time in The Force Awakens, but is it possible we actually got our first look at her many years ago? Some eagle-eyed Star Wars fans have noted a striking resemblance between the wizened smuggler and a random prop that appeared in Star Wars: The Phantom Menace. Take a look above and tell us what you think. Is this a random coincidence? A reverse Easter egg? Is that actually Maz Kanata herself, or just another figure who looks like her? Keep in mind that Maz is over a thousand years old — she was definitely around in the Phantom Menace days. Though that still wouldn't explain why there's a statue of her in circulation.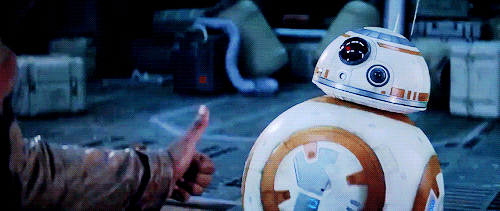 BB-8 has many, many amazing moments in The Force Awakens, and one of his best is when he gives Finn a droid version of a thumbs-up after agreeing to help him. Or so most people thought. Apparently, some fans thought BB-8 was flipping Finn the bird. Which doesn't really make any sense in context: why would BB-8 want to be rude to Finn in that moment? But just to clear up any doubt, The Nerdy Bird has dug up some rock-solid confirmation that BB-8 is, in fact, offering a thumbs-up.
In an interview with MTV, both Neal Scanlan and Roger Guyett describe the gesture as a "thumbs up." ILM's Patrick Tubach even notes they took pains to ensure the movement would not be misinterpreted. "One of the difficult things with animating something like that is you have to be very careful that it doesn't look like he's giving you some other sort of gesture!" he said. "We moved all the pieces around to make sure it was very clearly a thumbs up over any other kind of 'salute.'"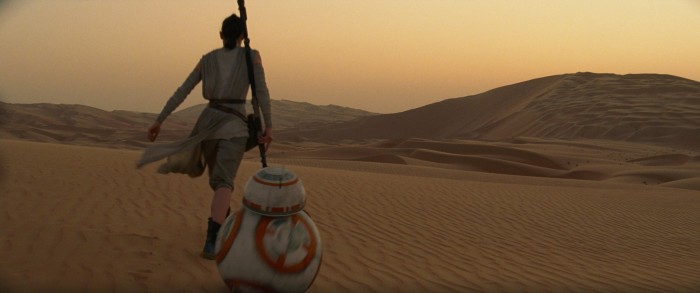 We're plenty familiar with Daisy Ridley at this point, but what about the other actress that plays Rey? Cailey Fleming is the young star who portrays the new Star Wars heroine in that much-analyzed flashback sequence, and in an interview with the Picayune Item she spoke a bit about her experience on set:
It was fun and we filmed at the headquarters on the roof. I wore war clothes and had makeup on my arms to make it look like I was in the desert. I met Daisy Ridley, who was really nice. The director, J.J. Abrams was super nice and he sent me to Disneyland. Every time we did a scene he would yell 'cut' and bring strawberries.
Worth noting: the roof mentioned here is the roof of Bad Robot, where some of the reshoots and additional filming for The Force Awakens took place. Fleming's comments, besides being adorable, confirm that Rey's childhood flashback was a late addition to the movie.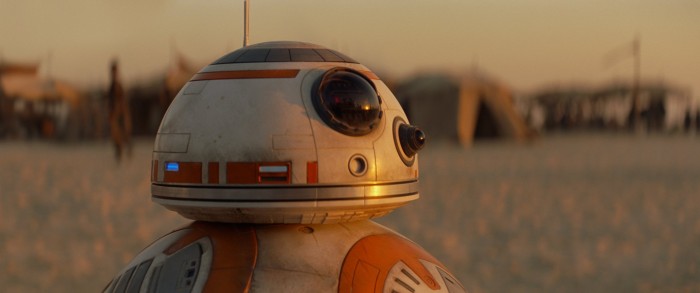 BB-8 feels so real, it's almost easy to forget he's a special effect and not a real, sentient creature. So how did the Star Wars team do it? Neal Scanlan let THR in on some of his secrets:
There were seven versions of the droid BB-8. "The main version was puppeteered a little bit like a wheel barrel," explains creature effects supervisor Neal Scanlan. "A puppeteer pushed BB-8 around and a second lever allowed him to move the head around on top of the body, so he could roll BB-8 wherever he wanted and move BB-8's head anyway he wanted."
"A second puppeteer, through radio control, operated the turn of BB-8's head and the lights in his face," he related, noting that in this case, the puppeteer was removed from the shots digitally in postpoduction. For shots when BB-8 stays in one place, a different version was used that didn't require puppeteer removal; and yet another version had stabilizing wheels that were removed digitally. Since this was shot on the desert sand, lots of crew and puppeteer footprints also had to be digitally removed from the final shots.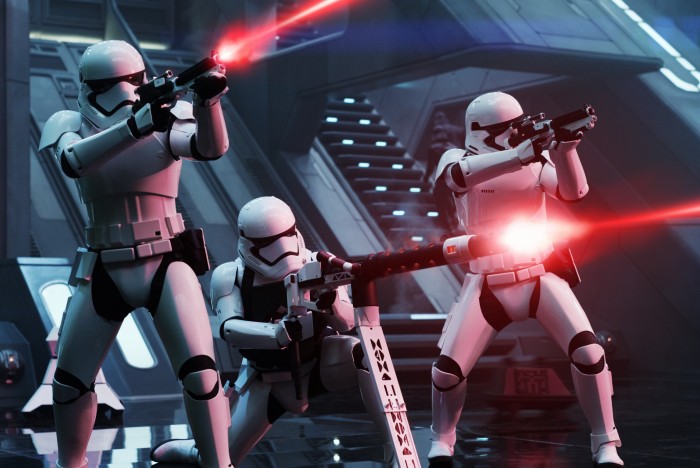 A month after The Force Awakens' theatrical release, people are still digging up Easter eggs. Among other things, the VFX team revealed to MTV that the blaster effects are pretty much the same ones used in the original trilogy. While they considered updating them, SFX supervisor Chris Corbould explained, "in the end, we all came back to the thought, 'We should probably stay true to the original ones because everybody knows them and will identify them.'"
Even less obvious are the Easter eggs buried within the trees on Starkiller base. "When they built the snow set, in the barks of the tree there are certain shapes and images that the construction department and art department placed in there, which were all homages back to the original A New Hope," revealed creature effects supervisor Neal Scanlan.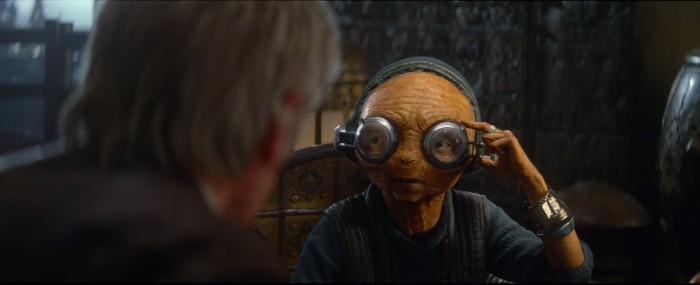 There's a lot of footage that was shot for The Force Awakens but never made it into the final cut. In a chat with Collider the film's VFX team offers details on some of the deleted scenes, including one particularly intriguing sequence involving Maz Kanata. Here's SFX supervisor Chris Corbould:
There was a particular part of a scene that never made it, where they go underneath the castle and they're going into the underground passageways, and stormtroopers are coming down the stairs and Maz uses her powers to collapse the ceiling.
From my point of view, [that] worked absolutely brilliantly because you had all the main actors running up and then Maz does her bit and then the whole ceiling collapses in front of them, but that never made it. That was a shot I was quite proud of, actually, it worked really, really well.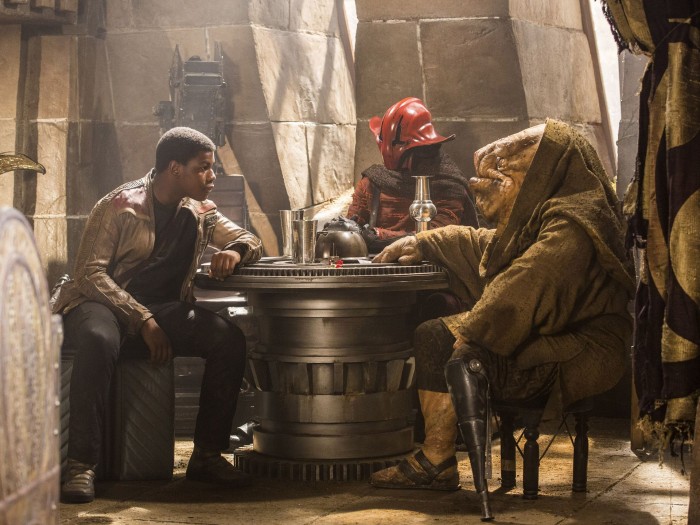 In case you haven't spent enough time poring over each and every frame of Star Wars: The Force Awakens already, USA Today has unleashed several more hi-res stills to go with an article about Neal Scanlan and the 110 non-human characters that populated The Force Awakens.