Quentin Tarantino Teases A 1930s Gangster Movie Set In Australia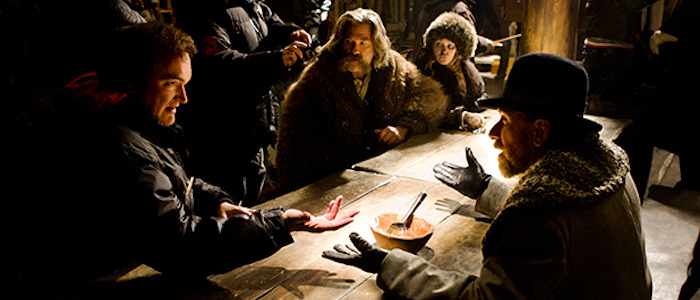 As it slowly limps out of theaters, Quentin Tarantino's The Hateful Eight feels destined to go down as the director's most divisive film. Critics and audiences were split. It made /Film's top 10 of 2015 but won't earn half of what Django Unchained grossed at the box office. The incredible roadshow presentation was marred by theaters unprepared to project 70mm film prints. Tarantino's legacy may be secure, but the destiny of The Hateful Eight itself is a big question mark.
And this is the point where we have to wonder what Tarantino will take on next. With the notable exception of the long break he took between Jackie Brown and Kill Bill Vol. 1, the always-controversial filmmaker typically has had another movie ready to go two or three years after his previous release. Could his next movie be a gangster movie set in 1930s Australia? Because he's talking about that now.
Much like the chatty Guillermo del Toro, Tarantino loves to talk about movies he will never make. In the past, he teased a Pulp Fiction and Reservoir Dogs spin-off that would team up John Travolta's Vincent Vega and Michael Madsen's Vic Vega. He pondered a third Kill Bill movie shortly after the release of Kill Bill Vol. 2. He hasn't been shy about spitballing ideas in public, so it's important to remember that every single Tarantino pitch is just chatter until he actually turns in a finished screenplay.
And with all of that said, the Australian movie site So Is It Any Good got this very interesting quote from Tarantino:
I do have an idea for an Australian film that would take place in the '30s. It would be a Bonnie and Clyde-ish story with a couple of outlaws in Australia. We'll see what happens.
As you can see in the full interview below, this pitch comes up because Tarantino is finding camaraderie with his Australian interviewer. He never says he's working on this next and he never says this is an idea he's committed to bringing to the big screen soon... but that's a very enticing concept that will allow the filmmaker to bring his voice to unique time and place and pay homage to all of the great, trashy "Ozploitation" he's ingested throughout his life. We would like to see this movie, please.
Plus, this will give him a chance to cast Zoe Bell as a New Zealand native living in Australia. You know that's gone through his head.
If past history is any indication, Quentin Tarantino's next movie will be in theaters by 2017 or 2018. Then again, he may decide to take a nice long break and recharge his batteries. After all, the mixed reception to Jackie Brown led to a lengthy vacation, but the box office failure of Grindhouse was immediately followed up by the incredible Inglourious Basterds. Place your bets on how he'll bounce off the divided reaction to The Hateful Eight.