'Pee-Wee's Big Holiday' Teaser & Release Date: The Lovable Weirdo Returns In March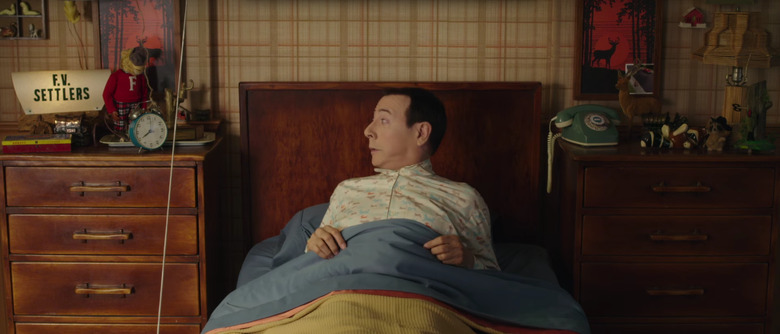 Pee-wee's Big Holiday finally has an official, confirmed, release date, and we have the first teaser to prove it. Netflix has announced the comedy will hit the service on March 18. Perhaps they know you'll need something a little lighter to break up the grim and gritty second season of Daredevil, which debuts on the same date. Anyway, watch the first Pee-wee's Big Holiday teaser after the jump.
Netflix previously revealed that Pee-wee's Big Holiday would land sometime in March, and this teaser confirms the exact date.
Paul Reubens has been trying for many years to get another Pee-wee Herman movie off the ground, and Big Holiday will be the first full-length feature since Big Top Pee-wee in 1988. But all the years in between don't seem to have changed Pee-wee much. He's still the childlike goofball character whose process for getting out of bed in the morning apparently involves a dropping piano, a giant helium balloon, and a set of skis.
In an earlier interview, Reubens dropped some hints about what we could expect from Pee-wee's Big Holiday. "It's a road-trip movie across the country. It's very similar in style and tone to Pee-wee's Big Adventure," he said. "I never really thought of Big Adventure as a family movie, but I didn't try to make an adult movie or a kid movie. We wanted to make something that appealed to a wide age range, and I think that's the case with this movie also."
Judd Apatow is producing Pee-wee's Big Holiday, and John Lee (Broad City, Inside Amy Schumer) is directing. Pee-wee's Big Holiday will have its world premiere at SXSW ahead of its March 18 Netflix debut. Here's the official synopsis:
The new film stars the beloved fun-loving hero of TV, stage and film, Pee-wee Herman. In Pee-wee's Big Holiday, a fateful meeting with a mysterious stranger inspires Pee-wee Herman to take his first-ever holiday in this epic story of friendship and destiny. The film stars Pee-wee Herman, Joe Manganiello (True Blood, Magic Mike XXL), Jessica Pohly (Stalker), Alia Shawkat (Arrested Development) and Stephanie Beatriz (Brooklyn Nine-Nine), and was directed by John Lee (Wonder Showzen, Pee-wee's Big Holiday). Paul Reubens and Paul Rust (Love, Arrested Development) wrote the film, that was produced by Reubens and Judd Apatow (Trainwreck, Bridesmaids).