'Neighbors 2: Sorority Rising' Trailer: Seth Rogen And Rose Byrne Battle The Girls Next Door [UPDATED With International Trailer]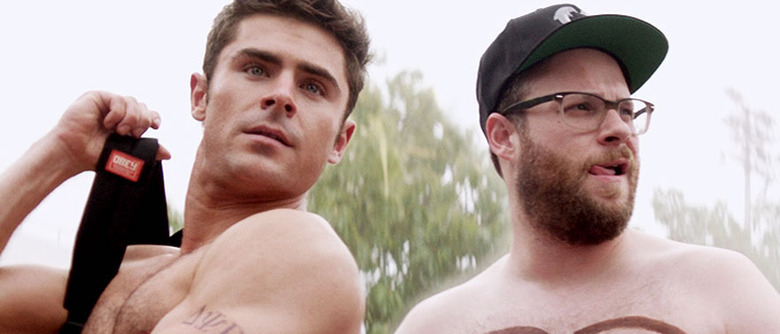 The first Neighbors pitted new parents Mac (Seth Rogen) and Kelly Radner (Rose Byrne) against the fraternity next door, led by Teddy (Zac Efron). In the sequel, the couple finds themselves enlisting their the help of their old nemesis to fight what might be an even bigger threat: a sorority next door.
Chloë Grace Moretz, Kiersey Clemons, and Beanie Feldstein play three of the ladies of Kappa Nu, who aren't about to let a little thing like furious neighbors stop them from throwing epic ragers. Adding to the pain this time is the fact that the girls are, well, girls. "With the sorority girls, it's like a glimpse into their daughter's future, and it terrifies them," Byrne has said. So what exactly has the Radners so spooked? Find out with the first Neighbors 2: Sorority Rising trailer after the jump.
UPDATE: An international trailer for Neighbors 2 has just hit, and you can watch it below.
UPDATE: And here's an international trailer with some different footage.
Directed by Nicholas Stoller, Neighbors 2: Sorority Rising opens May 20. Here's the detailed official synopsis:
Returning stars Seth Rogen, Zac Efron and Rose Byrne are joined by Chloë Grace Moretz for Neighbors 2: Sorority Rising, the follow-up to 2014's most popular original comedy. Nicholas Stoller again directs in a film that follows what happens when the will of parenthood goes against the bonds of sisterhood.
Now that Mac (Rogen) and Kelly Radner (Byrne) have a second baby on the way, they are ready to make the final move into adulthood: the suburbs. But just as they thought they'd reclaimed the neighborhood and were safe to sell, they learn that the new occupants next door are a sorority even more out of control than Teddy (Efron) and his brothers ever dreamed of being.
Tired of their school's sexist, restrictive system, the unorthodox ladies of Kappa Nu have decided to start a house where they can do whatever the hell they want. When Shelby (Moretz) and her sisters, Beth (Kiersey Clemons) and Nora (Beanie Feldstein), find the perfect place just off campus, they won't let the fact that it's located on a quiet street stand in their way of parties as epic as the guys throw.
Forced to turn to the one ex-neighbor with the skills to bring down the new Greeks next door, the Radners — alongside best friends Jimmy (Ike Barinholtz) and Paula (Carla Gallo) — bring in charismatic Teddy as their secret weapon. If he can infiltrate the sorority and charm his way through it, the thirtysomethings will shutter the Kappas' home. But if they think that their neighbors are going down without a fight, they have severely underestimated the power of youthful ingenuity and straight-up crazy.