Watch Michael Caine, Samuel L. Jackson, And More In The Hollywood Reporter Actors Roundtable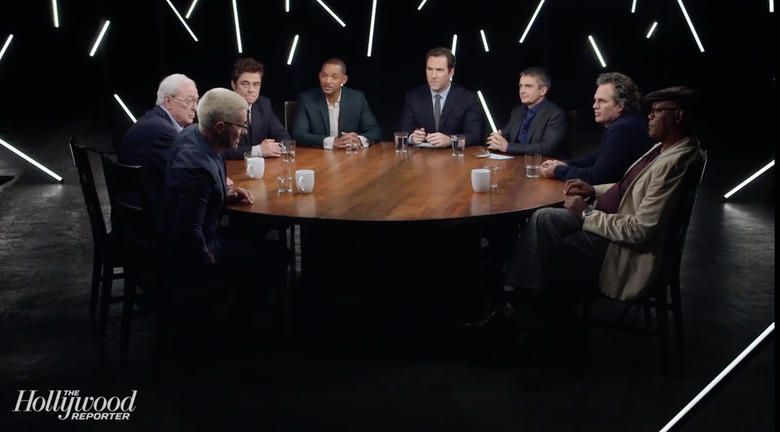 Out of everyone at this Hollywood Reporter actors roundtable, only Mark Ruffalo (Spotlight) was actually nominated for an Academy Award. Not like that really matters, but this video interview does highlight some of the talent the Academy members overlooked this year, such as Samuel L. Jackson (The Hateful Eight), Benicio Del Toro (Sicario), and Michael Caine (Youth).
After the jump, watch this group of actors and more discuss their careers, success, and fear in The Hollywood Report actors roundtable.
Will Smith (Concussion) makes, I believe, his first appearance in one of these THR interviews. Unsurprisingly, he's asked about why he passed on the opportunity to star in Quentin Tarantino's Django Unchained. He's given a different reason in the past — "I need to be the lead" — but here's what he had to say about it to The Hollywood Reporter:
It was about the creative direction of the story,. To me, it's as perfect a story as you could ever want: a guy that learns how to kill to retrieve his wife that has been taken as a slave. That idea is perfect. And it was just that Quentin and I couldn't see [eye to eye]. I wanted to make that movie so badly, but I felt the only way was, it had to be a love story, not a vengeance story. We can't look at what happens in Paris [the terrorist attacks] and want to f— somebody up for that. Violence begets violence. I just couldn't connect to violence being the answer. Love had to be the answer.
Here's the full, uncensored actor roundtable:
Michael Caine proves to be a goldmine of wonderful stories and anecdotes, most notably his recollection of a day on the shoot of Zulu. Going back to Smith, though, it's always interesting to hear his thoughts on acting and his brand, since he's had massive success throughout most of his career. Smith, half-jokingly, discussed what being no. 1 means to him:
I'm trying to develop a more realistic perspective of what this business is. I told my mother this the other day, and she thought it was hilarious. I said: "When I was 15 years old, my first girlfriend cheated on me. And I remember making a decision that nobody would ever cheat on me again. And the way I was going to do that was by being the biggest actor on Earth," right? So there's been this weird psychology that I have always felt like: If my movies are number one, my life is going to work out great.