'Director's Cut' Trailer: Penn Jillette Gets Super Meta, And Super Creepy, In Slamdance Horror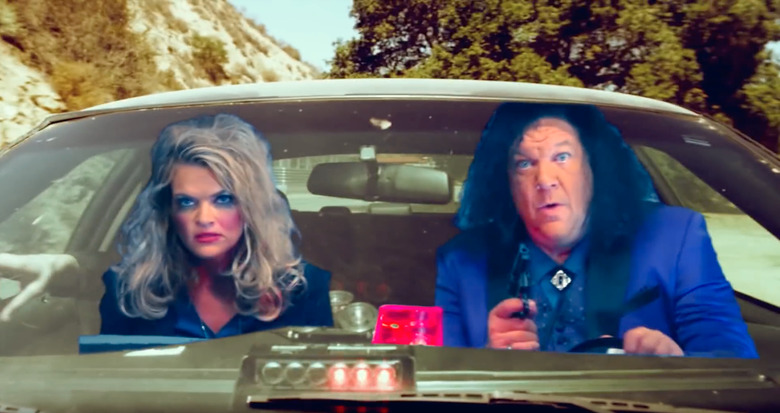 With Slamdance and Sundance happening concurrently, Park City is going to be the place to be for fans of indie cinema for the next two weeks. One of the most intriguing titles set to debut at the former is Director's Cut, Adam Rifkin's very meta horror movie starring Penn Jillette.
A crowdsourced movie about a crowdsourced movie gone awry, Director's Cut centers on Herbert Blount (Jillette), an unhinged cineaste who decides to take over control of a film project he helped fund. He kidnaps the lead actress (Missi Pyle) and forces her to act out the scenes he's written, while her co-stars (Harry Hamlin and Hayes MacArthur) wonder about her disappearance. The entire film takes the form of a director's cut of Blout's finished masterpiece. Like I said, it's very meta. Watch the Director's Cut trailer after the jump. 
Here's the Director's Cut trailer via Deadline:
The trailer starts out looking normal enough, but that's because we're watching Knocked Off, the gritty thriller the original director meant to make. Then it takes a hard turn into total madness, as cheap footage of Blount's amateur production — and footage of him stalking her — are cut into the movie. It's a ingenious twist on the found-footage conceit, and one that should play well to the movie-obsessed crowd at Slamdance.
Director's Cut has its world premiere Friday, January 22 at Slamdance. You can get more details here. For those in Los Angeles who can't make it to Park City, Director's Cut will subsequently hit the ArcLight in Hollywood for a special screening on February 2.
DIRECTOR'S CUT written by Penn Jillette, starring Jillette, Missi Pyle, Harry Hamlin – Premiering in Park City as Slamdance Special Screening Opening Night Film. The horror/black comedy follows a deranged lunatic named Herbert Blount (Jillette), who donates a large sum of money to a crowdfunded horror movie which lands him on set, after which he aspires to replace the real director of a movie and make it his own by steeling the footage, capturing the lead actress (Pyle) and reshooting scenes the way he'd like them for his own version. The story is told via the director's commentary over this new and improved version of the film.