'Bates Motel' Season 4 Teaser Trailer: Will There Be More Drug Wars?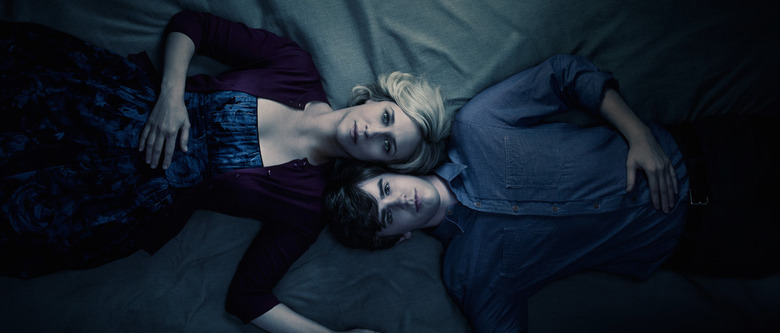 There was a lot of skepticism going into A&E's Bates Motel. "Who wants to see a prequel to Alfred Hitchcock's classic? Why do we need to see Norman Bates' origin story? How can this sustain itself for five or more seasons?" The show ultimately proved to be a success with viewers. However, after season one, it's struggled to prove those skeptics wrong.
Bates Motel returns this March. Watch the Bates Motel season 4 teaser trailer.
In response to the question "How can this story sustain itself?", the writers answered with subplots that, really, aren't the reason why someone would want to tune in to watch a show about Norma (Vera Farmiga) and Norman Bates (Freddie Highmore). Their relationship is the main draw, but whenever you spend time away from them, especially when you have to watch a war between two small-time drug lords, it turns into another show — and one I gave up on last season. Norma, Norman, and Emma (Olivia Cooke) are really fun characters to watch, so whenever they're not the main focus, Bates Motel suffers for it.
Perhaps season four will get Bates Motel back on track. The teaser trailer is only 30 seconds in length, so it'll probably only satisfy diehard fans:
That last shot, of course, is an homage to the most iconic scene from Psycho. Will season four get closer to the events in the Hitchcock movie? Possibly. A&E has renewed Bates Motel for its fourth and the fifth and final season.
Co-creators Kerry Ehrin and Carlton Cuse have always envisioned the show ending around its fifth season. Here's what Cuse had to say:
Yes, [it will be] five seasons. Kerry and I have a pretty clear roadmap. We have a pretty clear plan of where we want to go and we want to bring this story to its inevitable conclusion. I think Bates is not its best version if it's an open-ended series.
Season four and five are each 10 episodes in length, and both seasons will air this year. I don't intend on watching the upcoming episodes, but it'd be lovely to hear if the show just went through nothing more than a rough season or two and ends on a satisfying note.
Bates Motel season four premieres on March 7th at 9/8c.