The Great Christopher McQuarrie Maybe, Possibly, Worked On 'Rogue One: A Star Wars Story'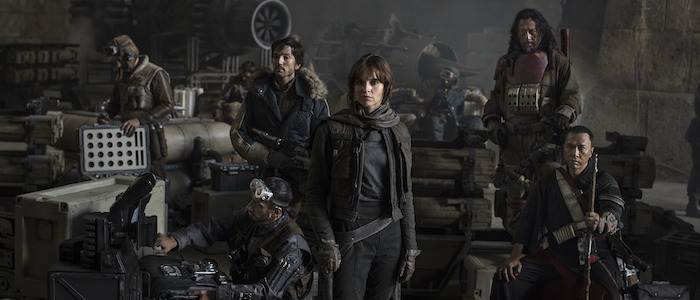 While we've been distracted by Star Wars: The Force Awakens arriving in theaters and breaking office records and whatnot, Gareth Edwards' Rogue One: A Star Wars Story has been quietly filming, avoiding the microscopic analysis that pervaded J.J. Abrams' sequel at every turn. And that's almost certainly a good thing – after being completely and totally obsessed with The Force Awakens for over a year, it's going to be nice to relax (just in a little) in the lead-up to the first official Star Wars spin-off.
But now that everyone in the world has seen The Force Awakens several times, we can start turning out attention to Rogue One. Let's start with a rumor, the resurrection of an older report, that claims Christopher McQuarrie was quietly hired to polish the screenplay as shooting began.
This latest piece of news arrives on our doorstep courtesy of Birth Movies Death, but we first heard rumblings of McQuarrie's involvement back in October. Although neither story can completely confirm this news, the pieces do line up. McQuarrie, the Oscar-winning screenwriter of The Usual Suspects and the strong director behind Jack Reacher and Mission: Impossible – Rogue Nation, is one of Hollywood's top script doctors. You won't see his name on every movie he worked on, but he's been called in to "fix" screenplays at the last minute countless times before. Most famously, it was his contributions that helped whip World War Z into shape when Paramount had to scrap and completely reshoot the film's third act.
Plus, if McQuarrie was going to contribute to a Star Wars movie, it would surely be Rogue One, the tale of Rebel soldiers setting out to steal the Death Star plans from the Galactic Empire prior to the events of the original 1977 film. Elaborate heists and tough characters and a grittier military setting? Yeah, those elements certainly play to McQuarrie's strengths.
If this is true (and we believe it is), McQuarrie is the third known writer to have worked on Rogue One, following Gary Whitta and Chris Weitz. Birth Movies Death claims that McQuarrie's contributions were substantial:
It's unlikely that McQuarrie will get a credit on the movie, although one source used the word 'saved' when talking about McQuarrie's contribution to the film.
That's not a slight against Whitta or Weitz, both of whom have turned in fine work in the past. We can only guess what happened behind the scenes of this movie and we'll trust in the good taste of director Gareth Edwards and producer Kathleen Kennedy that they ended up with the screenplay they wanted.
Rogue One: A Star Wars Story will arrive in theaters on December 16, 2016.