'Mad Max: Fury Road' Dominates The Critics' Choice Awards, But 'Spotlight' Is Truly Shiny And Chrome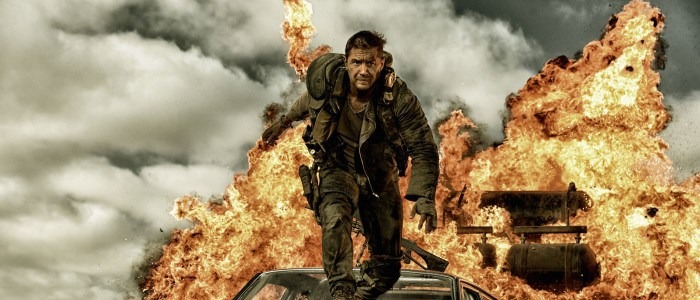 The Critics' Choice Awards don't always reflect what eventually goes down at the Academy Awards, but they reflect it just often enough to go under the microscope of hungry awards season analysts. If this year's winners do predict the big winners at the Oscars next month, it's awfully hard to argue with these picks. Mad Max: Fury Road swept through the awards, snatching technical wins left and right. However, Spotlight nabbed a handful of top prizes, including Best Picture.
Let's dive into some minor analysis before we get to the complete list of winners.
Organized and voted on by the Broadcast Film Critics Association, the Critics' Choice Awards honor the best in movies and television and they're often a bit unwieldy. With 54 awards, including genre-specific categories like "Best Action Movie," they tend to sprawl all over the place and look just a wee bit messy. However, the end result is a wide variety of movies and shows winning all kinds of awards, which is often very fun to see.
While there were many of winners, Mad Max: Fury Road (our favorite movie of 2015) effortlessly led the awards, taking home nine trophies including Best Director for George Miller, Best Action Movie, Best Actor in an Action Movie for Tom Hardy, and Best Actress in an Action Movie for Charlize Theron. The rest of its awards were for technical categories, including Production Design, Editing, Costume Design, and Visual Effects.
Still, Spotlight went home with Best Picture, Best Acting Ensemble, and Best Original Screenplay, which is also hugely impressive. In fact, this could very well be a preview of what goes down at the Academy Awards, with Mad Max: Fury Road sweeping the technical categories while Spotlight grabs a handful of key trophies. After all, this is what happened when Gravity faced 12 Years a Slave at the Oscars a few years ago.
Other winners weren't too surprising. Leonardo DiCaprio won Best Actor for The Revenant, Sylvester Stallone took home Best Supporting Actor for Creed, and Brie Larson claimed Best Actress for Room. Those three are the clear frontrunners in their respective Oscars categories, so those wins aren't too surprising. However, Alicia Vikander winning Best Supporting Actress for The Danish Girl is certainly interesting and may suggest her pulling ahead in that very crowded category.
Here is the complete list of winners:
FILM
BEST PICTURE
Spotlight
BEST ACTOR
Leonardo DiCaprio
The Revenant
BEST ACTRESS
Brie Larson
Room
BEST SUPPORTING ACTOR
Sylvester Stallone, Creed
BEST SUPPORTING ACTRESS
Alicia Vikander, The Danish Girl
BEST YOUNG ACTOR/ACTRESS
Jacob Tremblay, Room
BEST ACTING ENSEMBLE
Spotlight
BEST DIRECTOR
George Miller
Mad Max: Fury Road
BEST ORIGINAL SCREENPLAY
Josh Singer and Tom McCarthy, Spotlight
BEST ADAPTED SCREENPLAY
Charles Randolph and Adam McKay, The Big Short
BEST CINEMATOGRAPHY
Emmanuel Lubezki, The Revenant
BEST PRODUCTION DESIGN
Colin Gibson, Mad Max: Fury Road
BEST EDITING
Margaret Sixel, Mad Max: Fury Road
BEST COSTUME DESIGN
Jenny Beavan, Mad Max: Fury Road
BEST HAIR & MAKEUP
Mad Max: Fury Road
BEST VISUAL EFFECTS
Mad Max: Fury Road
BEST ANIMATED FEATURE
Inside Out
BEST ACTION MOVIE
Mad Max: Fury Road
BEST ACTOR IN AN ACTION MOVIE
Tom Hardy, Mad Max: Fury Road
BEST ACTRESS IN AN ACTION MOVIE
Charlize Theron, Mad Max: Fury Road
BEST COMEDY
The Big Short
BEST ACTOR IN A COMEDY
Christian Bale, The Big Short
BEST ACTRESS IN A COMEDY
Amy Schumer, Trainwreck
BEST SCI-FI/HORROR MOVIE
Ex Machina
BEST FOREIGN LANGUAGE FILM
Son of Saul
BEST DOCUMENTARY FEATURE
Amy
BEST SONG
"See You Again", Charlie Puth and Wiz Khalifa, Furious 7
BEST SCORE
Ennio Morricone, The Hateful Eight
TELEVISION
BEST ACTOR IN A COMEDY SERIES
Jeffrey Tambor, Transparent, Amazon
BEST ACTOR IN A DRAMA SERIES
Rami Malek, Mr. Robot, USA
BEST ACTOR IN A MOVIE MADE FOR TELEVISION OR LIMITED SERIES
Idris Elba, Luther, BBC America
BEST ACTRESS IN A COMEDY SERIES
Rachel Bloom, Crazy Ex-Girlfriend, The CW
BEST ACTRESS IN A DRAMA SERIES
Carrie Coon, The Leftovers, HBO
BEST ACTRESS IN A MOVIE MADE FOR TELEVISION OR LIMITED SERIES
Kirsten Dunst, Fargo, FX Networks
BEST COMEDY SERIES
Master of None, Netflix
BEST DRAMA SERIES
Mr. Robot, USA
BEST GUEST ACTOR/ACTRESS IN A COMEDY SERIES
Timothy Olyphant, The Grinder, Fox
BEST GUEST ACTOR/ACTRESS IN A DRAMA SERIES
Margo Martindale, The Good Wife, CBS
BEST MOVIE MADE FOR TELEVISION OR LIMITED SERIES
Fargo, FX Networks
BEST SUPPORTING ACTOR IN A COMEDY SERIES
Andre Braugher, Brooklyn Nine-Nine, Fox
BEST SUPPORTING ACTOR IN A DRAMA SERIES
Christian Slater, Mr. Robot, USA
BEST SUPPORTING ACTOR IN A MOVIE MADE FOR TELEVISION OR LIMITED SERIES
Jesse Plemons, Fargo, FX Networks
BEST SUPPORTING ACTRESS IN A COMEDY SERIES
Mayim Bialik, The Big Bang Theory, CBS
BEST SUPPORTING ACTRESS IN A DRAMA SERIES
Constance Zimmer, UnREAL, Lifetime
BEST SUPPORTING ACTRESS IN A MOVIE MADE FOR TELEVISION OR LIMITED SERIES
Jean Smart, Fargo, FX Networks
BEST ANIMATION SERIES
BoJack Horseman, Netflix
BEST REALITY SHOW – COMPETITION
The Voice, NBC
BEST REALITY SHOW HOST
James Lipton, Inside the Actors Studio, Bravo
BEST STRUCTURED REALITY SHOW
Shark Tank, ABC
BEST TALK SHOW
Last Week Tonight with John Oliver, HBO
BEST UNSTRUCTURED REALITY SHOW
Anthony Bourdain: Parts Unknown, CNN
Genius Award
Industrial Light + Magic
MVP Award
Amy Schumer
Most Bingeworthy Show
Outlander, Starz