'Love' Trailer: Gillian Jacobs And Paul Rust Play Not-So-Grown-Up Grown-Ups In Judd Apatow's Netflix Series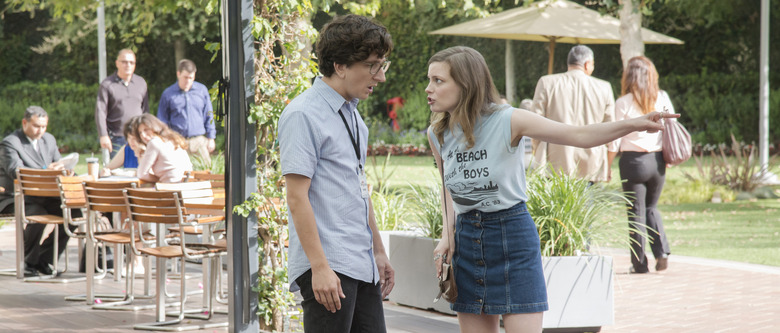 Now that we've met Mickey and Gus, the first full-length Love trailer has arrived to show us what they're like together. The upcoming Netflix series from Judd Apatow, Lesley Arfin (Brooklyn Nine-Nine) and Paul Rust (Comedy Bang! Bang!) centers on two very different young adults trying, with very mixed results, to navigate the complexities of modern love. Rust himself plays nice guy Gus, and Gillian Jacobs is wild-child Mickey. Watch the new Love trailer after the jump. 
Given the conventions of the genre, I suppose Gus and Mickey will inevitably wind up together. But I think I prefer them as friends, at least based on the trailer. They've got plenty of chemistry, but it feels more like the platonic kind than the romantic / sexual kind. Plus, it's so fun just watching them help each other with their separate love lives. Then again, we've already got 22 episodes of this show ahead of us — ten for the first season and twelve for the second. A lot could happen in that time.
Young adults who can't quite seem to figure out grown-up relationships are kind of Apatow's thing, from The 40-Year-Old Virgin to Knocked Up to Trainwreck to Girls, and Love looks to be right in his wheelhouse. There's the same mix of too-real awkwardness and frank humor. Not to mention incisive pop culture commentary. Mickey and Gus are right: Homeland season 3 was very confusing.
Love premieres February 19.
Created, written and executive produced by Judd Apatow, Paul Rust and Lesley Arfin, Love follows nice guy Gus (Rust) and brazen wild-child Mickey (Gillian Jacobs) as they navigate the exhilarations and humiliations of intimacy, commitment, love and other things they were hoping to avoid. Love is an unflinching, hilarious and excruciatingly honest take on modern relationships. Brent Forrester and Dean Holland also serve as executive producers of Love.