How 'Fuller House' Will Be Different From 'Full House' - And How They'll Be The Same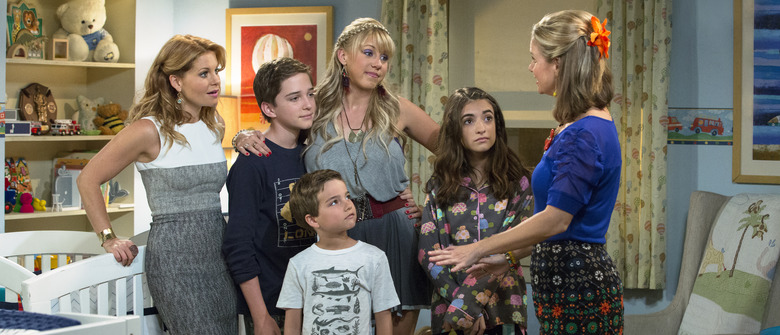 Netflix presented a panel on Fuller House to the Television Critics Association with returning stars Candace Cameron Bure, Jodie Sweetin and Andrea Barber, with creators Jeff Franklin and Bob Boyett. Franklin and Boyett spoke with a roundtable of journalists later in the day about the new incarnation of TGIF classic Full House.
Fuller House embraces the nostalgia with some self-referential humor, including a reference to the Olsen twins and several references to classic Full House episodes. "Who gets to do that?" Franklin said. "Who gets to reference 192 episodes that have been watched over 29 years and have everybody get the jokes? It's great. It was a lot of fun. There was a lot of stuff I didn't want to do because we tried not to do that too much, but it was just fun to do those kinds of jokes." 
The new show is a tad edgier than the original too, with double entendres and modern lingo like "on fleek" and "selfie." "[It is a] little bit, because the world is edgier," Franklin said. "Kids are edgier. Kids know so much more than kids did 30 years ago. They're growing up in a different world."
Boyett seconded, "They're exposed to so much more because of their electronic connections. Also with the show, we will be doing more with adult stories. I mean, we're not going to do Sex and the City stories with the three girls but we are going to see them dating and having relationships with guys. They're all single women. In that sense, yes. It will have a little more of an edge and hopefully just be a more contemporary show."
Just as Full House was distinctly a late '80s/early '90s show, there will be no mistaking Fuller House is the year 2016. "There's no way they're going to look the same," Franklin said. "It is the same house but the world has changed in 30 years so people have cell phones and use different expressions."
The Tanner family gets back together when DJ (Bure) becomes a widow. Her sister Stephanie (Sweetin) and best friend Kimmy Gibbler (Barber) move in to help her manage as a single mom, just like Uncles Joey and Jesse did for her father.
"The current that runs underneath Full House and Fuller House is tragedy, really," Franklin said. "These families have experienced the loss of a parent and so it's everyone's challenge, how do we deal with that? How do we get through that? How do we come through that and create a different kind of family? There's always an element of seriousness I think that helps you root for the people in the show as well."
Since Full House also began with Danny Tanner a widower, Franklin and Boyett did consider making DJ a divorcee instead, but it raised too many other questions. "Yes, we went through all kinds of possibilities but in the end, it felt like this was the best solution," Franklin said. "It cuts both ways because on one hand, it feels like you're just repeating yourself. I struggled with that but having a divorce, well, the father's around and you have to deal with him. It changes the show. We even toyed with him being in the military and away all the time. We always came back to this just felt like the right thing to do in spite of its similarity to the original premise."
Even thought an ex-husband could be explained away with a single line stating he's out of the picture, Boyett suspects the audience would still wonder about him. "It heightens the stakes for her," Boyett said. "I think there's no one for her to turn from to bail her out. She is a single parent and I think that resonates with our audience as the first show did. The father didn't have a strong female voice to turn to in the early days. Had we given any other opportunity for him to be alive, you would have I think have an audience wanting to see him at some point. Now that's out of the question."
Original cast members Bob Saget, John Stamos and Dave Coulier appear in select episodes, as do fan favorites like Lori Loughlin and Scott Weinger. Franklin split the episodes evenly between guest appearances and focusing on the trio of women.
"They're in about half the shows," Frankling said. "Half of them are just the new cast and half there's somebody from the old show. I think it's great to keep the idea alive that this is still a family. Even if those other characters are not part of their world on a day-to-day basis, they're still involved. They're still part of their lives and it's a great treat for fans of the original show to see them back with everybody."
Fuller House also benefits from the work done by the original show. You won't have to give Fuller House a few episodes to find its footing, because they already did that from 1987 -1995.
"The chemistry that you see on Full House was not there from day one," Franklin recalled. "That evolved over time. These three ladies have an instant friendship that goes back to when they were little kids that has continued through their adult lives, and they're different people. They're zoned in."
Fuller House premieres on Netflix February 26.