'Star Wars Rebels' Showrunner Breaks Down Secrets Of The New Trailer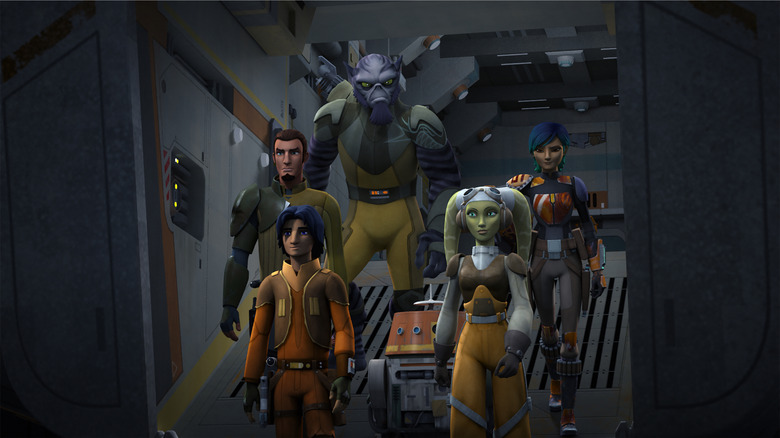 Before the weekend, a new trailer for the midseason return of Star Wars Rebels teased some pretty big moments on the way for the crew of the Ghost, including a surprising connection to a certain villain's unique lightsaber in Star Wars: The Force Awakens. Now showrunner Dave Filoni has opened up just a little bit about some of the big teases in that trailer, including what appears to be the return of another villain from the past other than Darth Vader.
Check out the Star Wars Rebels trailer breakdown after the jump!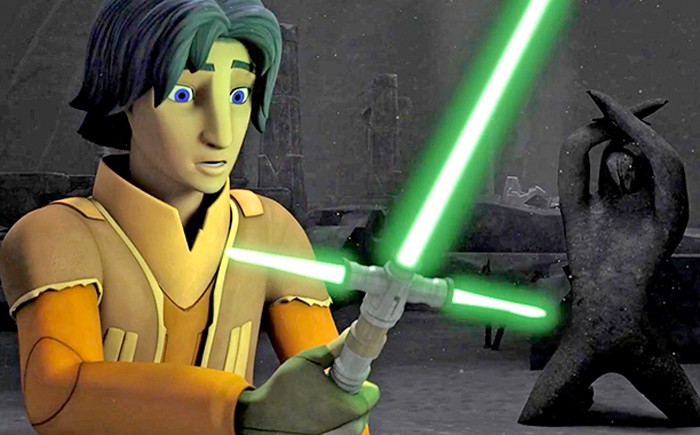 First, what's the deal with that green cross guard lightsaber? Filoni told Entertainment Weekly, "I wanted to put a nod to this new history we're seeing in The Force Awakens. It's important to have these links between stories in major ways and subtle ways. Here you find a sword we've encountered before, and it gives a little more context to something that turns up later." We know Kylo Ren's red cross guard lightsaber from The Force Awakens is based on an ancient design, and we'll likely learn more about it here.
Our heroes look to be paying a visit to a Sith temple, though Filoni isn't really giving anything away about it, saying, "It is an ancient place. And it is a dangerous place and one that will challenge our characters. They come out the other side and are not the same." But it is a Sith temple right? "This place would be well liked by the Sith, I'll say that much," Filoni teased.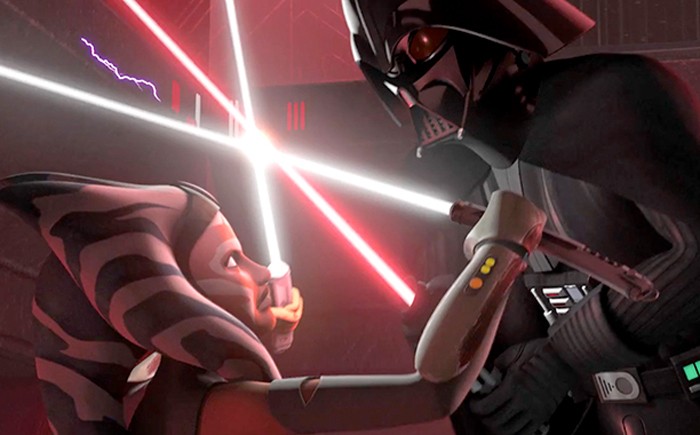 Speaking of Sith, Darth Vader will have quite the epic confrontation with his former apprentice. Ahsoka engages in a lightsaber battle with the Jedi once known as Anakin Skywalker, and it's going to be a lot for her to confront. Filoni explains, "I like a lightsaber fight like anybody, or a big action sequence like we've done in the past, but I always find that those have little meaning if you don't have the emotions going into it to support it — you don't have the tension and the stakes. There's some really powerful scenes coming up for fans involving Ahsoka."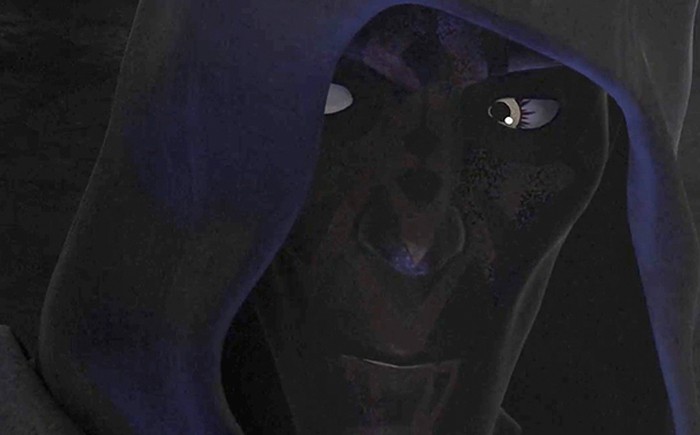 Darth Vader might not be the only familiar Sith making an appearance on Star Wars Rebels. There's a shadowy figure that seems to have the face tattoos of Darth Maul. The character appeared to die in The Phantom Menace, but as fans of The Clone Wars and comic books know, he lived on with a mechanical lower half. But could he still be alive after all these years? Filoni isn't giving anything away for fans making that guess, saying, "Even if they guess right about everything they think they're seeing, they won't know how it comes together, which really becomes the fun part for me. So if you're guessing right and the character is who you think it is, it still doesn't answer: What in the world is that character up to?"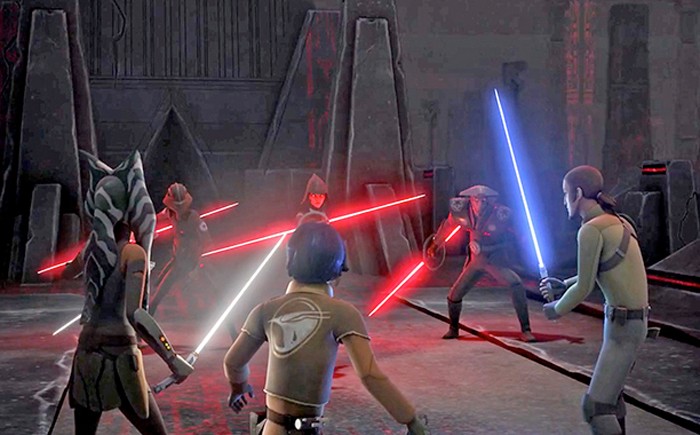 And the villain fun just keeps on coming as fans will notice that there's another masked Inquisitor standing next to the Fifth Brother and Seventh Sister. However, we don't know who is behind that mask just yet. Could it be someone tied to the tattooed villain above?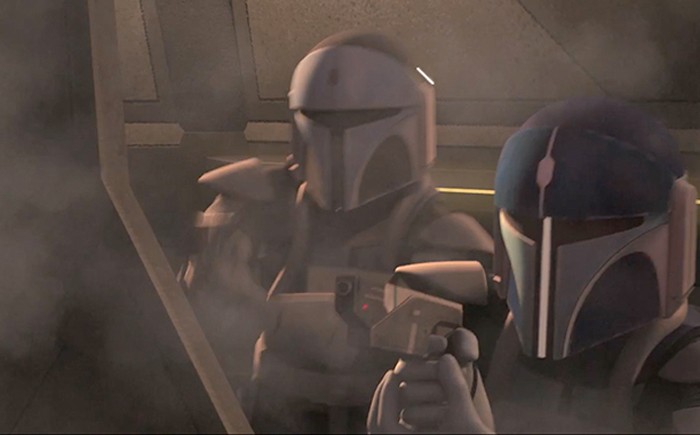 Now let's dive into the female heroes, because Sabine Wren is going to get the spotlight when she meets up with two other Mandalorians. Filoni teases, "People have been very excited about Sabine, and we wanted to get more into her background and her history and her family history, and [actress Tiya Sircar] has done a great job at evolving the character. So there will be some episodes which dive back into the Mandalorian realm and show a couple new things about them that perhaps fans didn't know. I think it opens up the door for more Mandalorian madness in the future."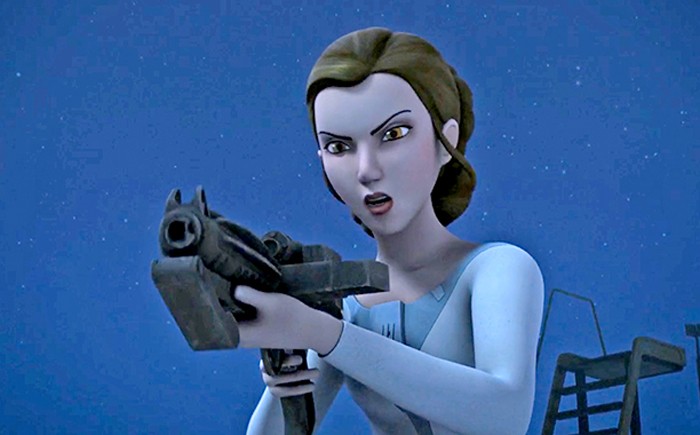 And finally, with the iconic Darth Vader creating trouble for our heroes, there just needs to be a familiar good guy popping up. In this case, it's actually a good girl, because Princess Leia is coming to Star Wars Rebels. Julie Dolan is voicing the teenage heroine, but she's a bit different from the girl we've come to know. Filoni explains, "Leia is technically part of the Empire at this time. Her father is still working within the Senate, and she would be seen by the Imperials as someone who's more on their side."
But of course she ends up breaking away from that to help the Rebel Alliance, and we'll get a taste of what makes her the feisty strong woman we see in the original trilogy. Filoni talks about their approach to bringing Leia into the fray, "We were really focused on trying to discover who Leia was prior to A New Hope. We know that she's very strong, somewhat rash, super intelligent, but how did she develop those skills? In A New Hope, she's really an impressive character when you think of her standing face to face with Tarkin, standing face to face with Vader, talking back to them, lying to them, deceiving them, misdirecting them."
***
You can get more from Dave Filoni about what's to come in the rest of the second season of Star Wars Rebels over in the full trailer breakdown over at Entertainment Weekly right here.