'Jessica Jones' Season 2: What's Next For Jessica And Luke? Will Kilgrave Return?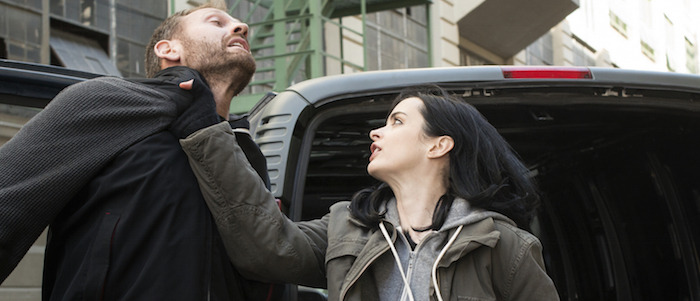 After announcing a season two pickup for Marvel's Jessica Jones, Netflix presented a panel with the cast and creators of the show. After her panel, Krysten Ritter spoke with journalists further. When she signed up for the show, there were already plans to join the Netflix Marvel characters in a Defenders series. News of getting her own second season delighted Ritter.
"I love Jessica and I'm so excited to see what happens next for her," Ritter said. "When I watched the show the weekend it came out with everybody else, I was like, 'Okay, what's next?' Which is kind of what happens with all the Netflix shows. You need more. So I'm excited to see where she goes next and how she handles this next chapter of her life."
More on season 2 after the jump, including Jessica's upcoming arc, where Jessica and Luke might meet next, and whether a certain someone will return.
During the panel, the focus was on the first season, including SPOILERS for the season finale. The panel revealed a few tidbits about where season two might go.
Defeating Kilgrave (David Tennant) was a triumph for Jessica, who had been traumatized by the mind control he used on her. Still, even with Kilgrave gone, we can still expect to see Jessica dealing with her emotional recovery in season two. "I don't think that trauma goes away with Kilgrave's death," Ritter said on the panel.
Luke Cage is moving on to his own series, but actor Mike Colter expects to see Jessica again. "I think Luke is completely exhausted emotionally," Colter said on the panel. "I think where he goes will be directly related to where he came from in the story of Jessica Jones. It's a long arc, a long storyline. It leaves us in a great place to see how we interact again, whether it's The Defenders or Jessica Jones season two or whatever."
As for whom Jessica might face in season two as a villain, head of Marvel Television Jeph Loeb says they've just begun thinking about the story of next season. "The best part about it is we've learned about the pickup when you guys learned about it," Loeb said on the panel. "I think we're at that stage of just going yay."
Loeb and creator Melissa Rosenberg indicated that Kilgrave really is gone and Tennant will not return for season two.
Jessica Jones is now streaming on Netflix.