Exclusive: Why Does Terry Crews Think Sylvester Stallone Might Leave 'The Expendables'?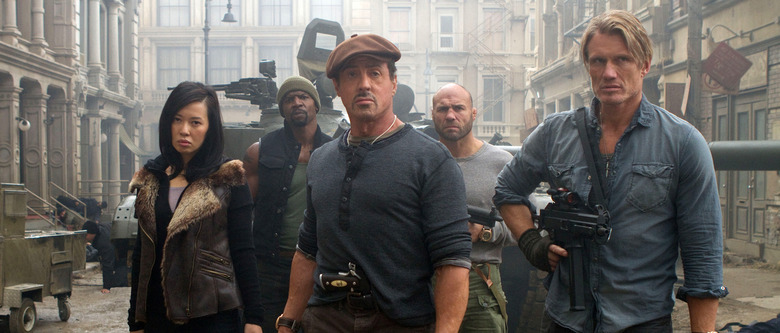 The Expendables 4 is already in development, with plans to film in China as many American blockbusters are prone to do. Although Sylvester Stallone has been the driving force behind the franchise, Expendables star Terry Crews believes that could now change. Find out why after the jump.
Crews plays Hale Caesar in the first three Expendables, and actually landed the role when Wesley Snipes was unavailable for the first film. /Film spoke with Crews at the Fox party for the Television Critics Association where he was promoting the TV series Brooklyn Nine-Nine. He speculated that Expendables 4 plans might change after Oscar night.
Plans for the action sequel were made before Creed opened. Now Stallone has won the Golden Globe and been nominated for an Academy Award, and a Creed sequel is planned. Crews thinks Stallone might hand off The Expendables while he takes new opportunities available to him after Creed.
"I have to say, with Sly, I think it looks like he's going to get an Oscar," Crews said. "It's a matter of whether he'll be in it. If he got the Golden Globe, he got the Oscar, there's a lot more things that are going to be offered to him, but if Sly is in it, I'm in."
Stallone plays Barney Ross, the leader of the Expendables. Since the film introduces a rotating roster of action heroes, it wouldn't be implausible for Barney to sit out one mission, and for Stallone to remain in a behind-the-scenes capacity. He already directed the first movie and worked on the scripts for all three.
"He might," Crews said. "He might, but whatever Sly says I'm doing. He's like my dad. He's literally my dad in the business. If Sly's like, 'I'm out of this thing,' I don't see myself doing it."
At this point, this is purely speculation. Crews has not spoken to Stallone about it. However as a friend, and seeing Stallone as a mentor, Crews would support Stallone pursuing post-Creed options and leaving The Expendables franchise to the other Expendables.
"I'm just thinking he's got options now," Crews said. "As well he should. He should think about what his next move is going to be, what he's going to do. Creed was amazing, amazing. It showed his depth and he's a lot deeper than people always give him credit for."
Crews said he is also appearing in the third Adam Sandler movie under his Netflix deal, after appearing in The Ridiculous Six. The Expendables 4 is due in theaters in 2017.