'Star Trek Beyond': A Worn Enterprise, Bigger Phasers & One Crew Member Has A Kid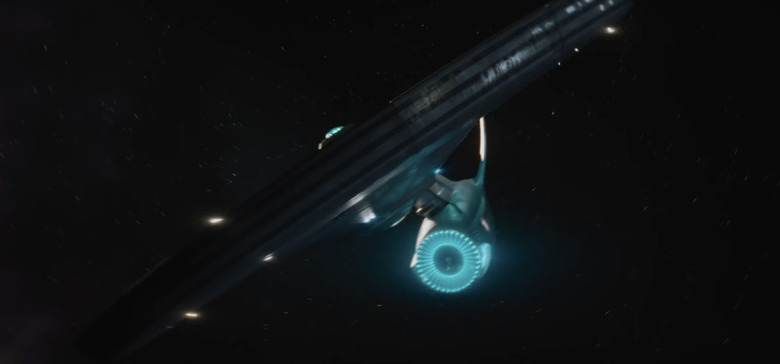 In case you haven't heard, this year marks the 50th anniversary of Star Trek. The original TV series premiered back in 1966, and that's why Paramount Pictures wanted to make sure they got Star Trek Beyond in theaters this year as a way of paying tribute to Gene Roddenberry's iconic sci-fi creation. So far we don't know much about the third film in the rebooted franchise, but some new details have come to light.
A set visit to the Enterprise and brief interviews with some of the cast provide a little insight into where we find the crew of the ship, not to mention the state of the ship itself. Plus, get a look at some of the new weapons and an important addition to one character's family.
Here's the Star Trek Beyond set video from Entertainment Tonight:
If you can't spare a couple minutes, or you just hate shows like Entertainment Tonight, we'll run through the important details. First, the Enterprise has been on their current mission for two years, and the ship is showing a bit of wear and tear. Along with that, the crew is getting homesick after being gone for so long.
That turns out to be a little more difficult for Hikaru Sulu (John Cho), because he has a daughter at home waiting for him. In addition, the actor teased some kind of revelation about Sulu's daughter that he wasn't allowed to divulge. What kind of secret could it be? We'll have to wait and see.
As for how the film from Fast and Furious franchise director Justin Lin is honoring the 50th anniversary, it doesn't sound like there's anything overtly paying tribute to the original series. Though Karl Urban points out that the uniforms and ship interiors are a little more retro this time. But not everything has an older influence, because Chris Pine points out some bigger phasers, which he actually hadn't even seen at this point in production.
But what about paying tribute to the late Leonard Nimoy? In another set video, Pine doesn't seem aware of any farewell to Spock Prime in the film, so it'll be interesting to see if the character is addressed in the movie at all. He was quite integral to the plot of the first film in 2009 and then used again as a cheap cheat to defeat Khan in Star Trek Into Darkness. A cameo from William Shatner could make up for Nimoy's absence, but the original Star Trek star has already denied that as a possibility.
Star Trek Beyond arrives on July 22nd, and you can still watch the first trailer right here.